Our verdict:
The Okaysou AirMax 10L Pro promises a lot with its 5-in-1 filter and TikTok hype.
Sadly, when it came to pure air cleaning performance, it was sub-par compared to its competitors and costs more when you factor in energy and filter replacements. 
Okaysou has been around since 2018 and, according to Linkedin, only has eight employees, mostly based in China. I became aware of their air purifiers when they started ranking among the most popular units sold on Amazon.
They have also been marketing heavily, with TikTok posts showing how their air purifiers catch pollutants in the home.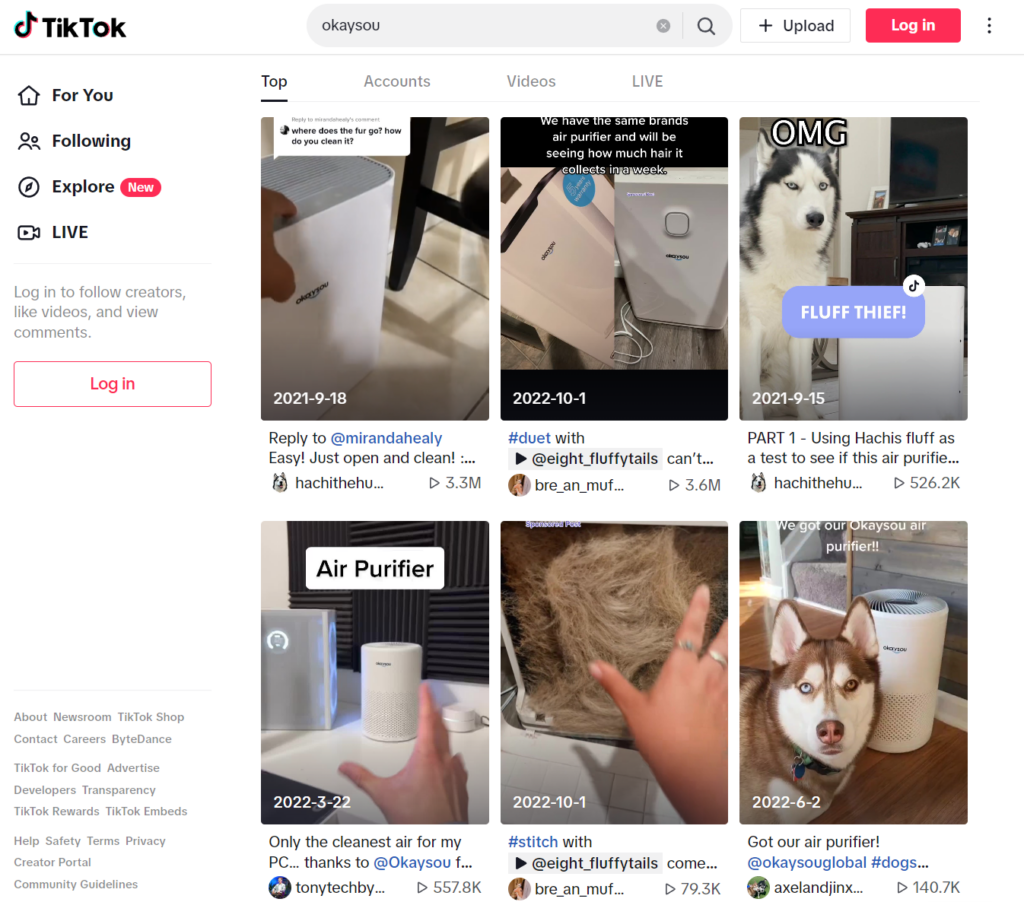 The AirMax 10L (available since December 2020) is a larger update to their popular AirMax 8L. It has a 5-in-1 filter system that combines different filters, including a rare ionic silver filter and two H13 filters.
Why You Should Trust This Review

Since 2022, the team at Okaysou has sent our team no less than eight messages asking us to join their affiliate scheme and receive a free air purifier. We never accept free air purifiers, though. We bought the AirMax 10L with our own money, so you can be sure this review will be honest and unbiased.

We also don't rely on what manufacturers say; we test all the units we review by analyzing how quickly they remove the smallest particles from the air. We can compare performance across brands and models by testing all our air purifiers in the same-sized space.

Our testing process:

1️⃣ – In our home lab of 705 cubic ft, we light an incense stick to generate particle pollution and VOCs.
2️⃣ – We set up our trusted Purpleair Indoor Sensor with the latest Bosch gas sensor to track levels of PM1ug/m3, PM2.5ug/m3 and PM10ug/m3 and VOCs in the air.
3️⃣ – We switch the air purifier to its highest speed and measure how long it takes to get our room air quality down to PM1 level to 0.
4️⃣ – We use an energy meter to measure exactly how much electricity is used when running the unit at the lowest and highest fan speed settings.
5️⃣ – We track sound levels emitted by the air purifier at different fan speeds with the help of a commercial sound meter.

TL;DR The Lowdown on the Okaysou AirMax 10L Pro
---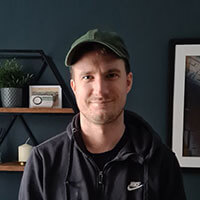 "The Okaysou AirMax 10L Pro fails to meet the hype of its marketing and didn't impress us in our real world air cleaning test and electricity usage." — Danny Ashton, Founder & Senior Writer
---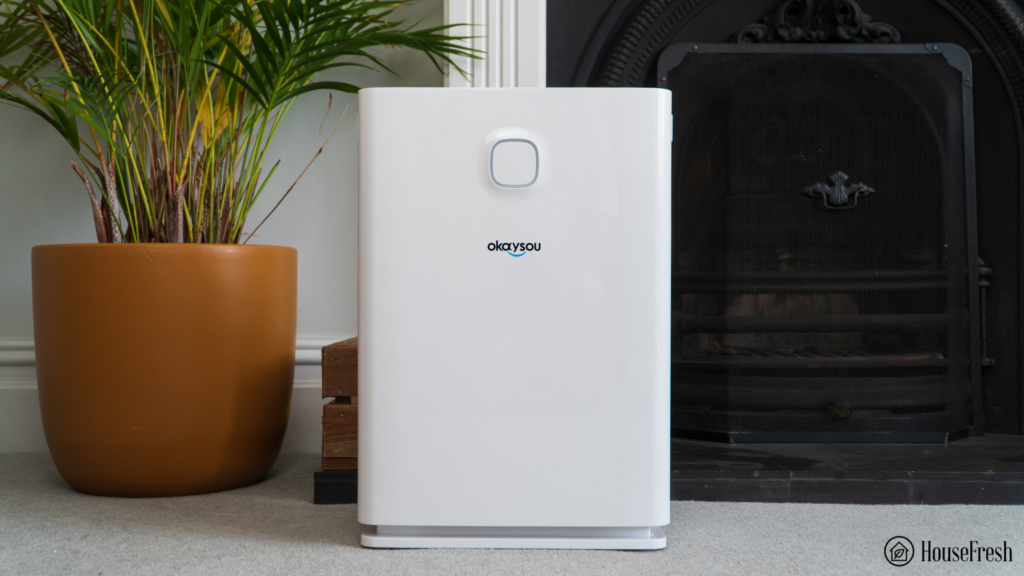 What We Really Like:
👍 Air quality sensor is not something you usually see at this price point for air purifiers
👍 Simple button controls that are easy to use
👍 Size is easy to live with and wouldn't stand out in a bedroom or small room
👍 At $149.99 it's as affordable as other units with similar CADR scores
👍 Auto-mode is another feature rarely found with cheaper air purifiers
What We Think Could Be Better:
👎 5-in-1 filter feels cheap and failed to show effectiveness in our particle removal test
👎 High energy usage, especially when considering its low level of cleaning power#
👎 Filter costs are a little higher than other budget brands like Blueair Pure and Levoit
The Specifications
On paper, this is a potentially impressive air purifier. With a CADR of 147 CFM, it's similar to the Levoit Core 300 (145 CFM) and based on its spec sheet, it should outperform the Blueair 411+ (121 CFM).
| | |
| --- | --- |
| HouseFresh Rating: | ★★★☆☆ |
| Time to clean our test room: | 44 minutes |
| Air purifier technology: | Pre-filter, H13 dual HEPA filters, Advanced Blue Nano Ionic Silver Filter, Honeycomb Activated Carbon Filter |
| Recommended room size: | 300 to 1000 sq. ft. |
| Clean air delivery rate (CADR): | 147 CFM (250 m3/h) |
| Dimensions (in inches / in cm): | 13.2L x 7.2W x 19H inches (33.5L x 18.3W x 48.2H cm) |
| Weight (in pounds / in kg): | 12.78 lbs (5.8 kg) |
| Noise level (low – high): | 24dB – 51dB |
| Filter life: | 6 months |
| Warranty: | 5 years |
| Estimated energy consumption: | $66.23 per year |
The Okaysou AirMax 10L costs between $150 and $200. At $1.02 per CADR CFM, it's comparable to the small and medium-sized air purifiers from Blueair and Medify.
Looks Like a Levoit and Alen Had a Baby
This unit resembles the Levoit Vital 100 and takes many design features from other units like the Alen 45i. It also looks very similar to the Coway Airmega AP-1512HH.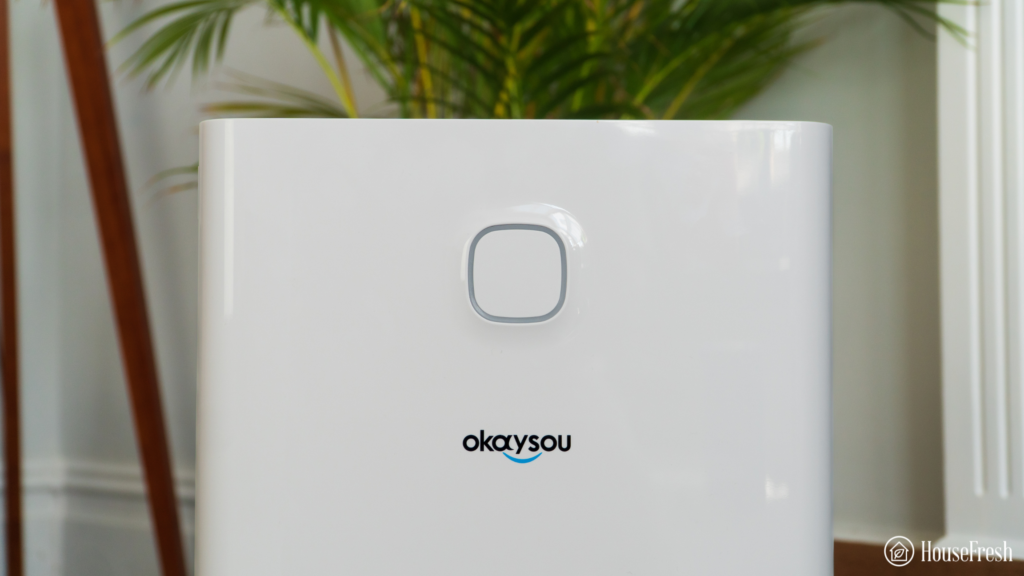 It's fair to say that the designers at Okaysou took inspiration from the best-selling units made by major air purifier brands in designing the AirMax 10L.
In the photo below, you can see the AirMax 10L Pro side by side with the Levoit Vital 100: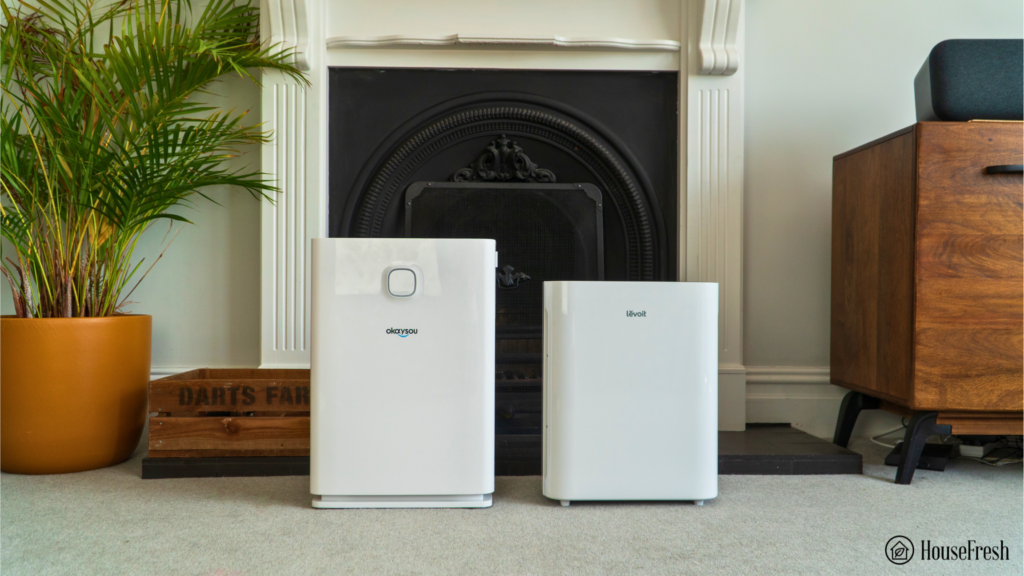 The design is not a total rip off but the front panel of the Okaysou AirMax 10L Pro does bear some resemblance to the front panel of the Levoit Vital 100.
Things change when looking at both units side by side: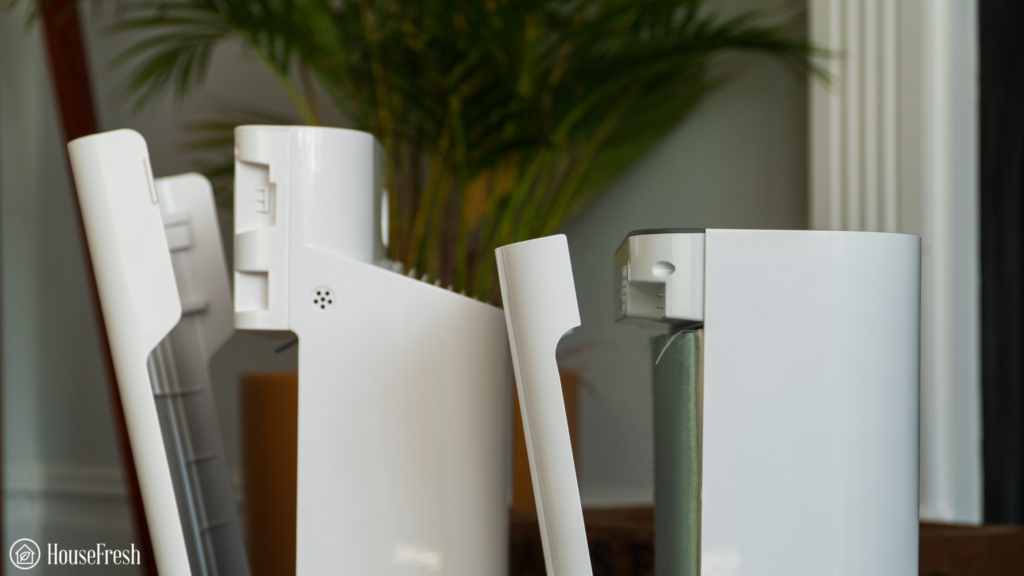 When looking at the Okaysou AirMax 10L Pro profile, you can see that it's reminiscent of the air purifiers designed by Alen: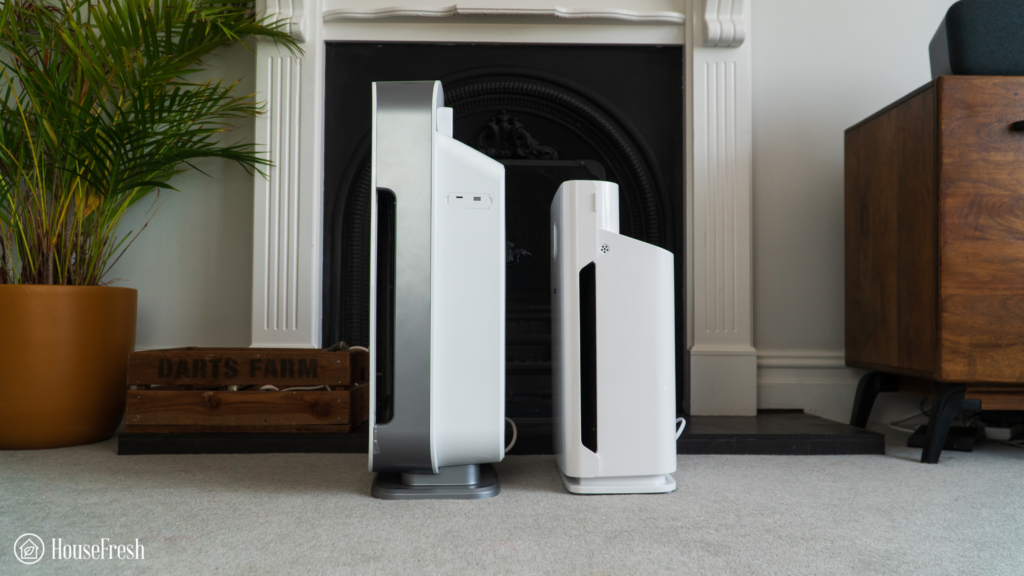 As you can see, it's much smaller than the Alen 45i but it does feel like a little sibling. Even the air quality sensor is on the same side of the unit: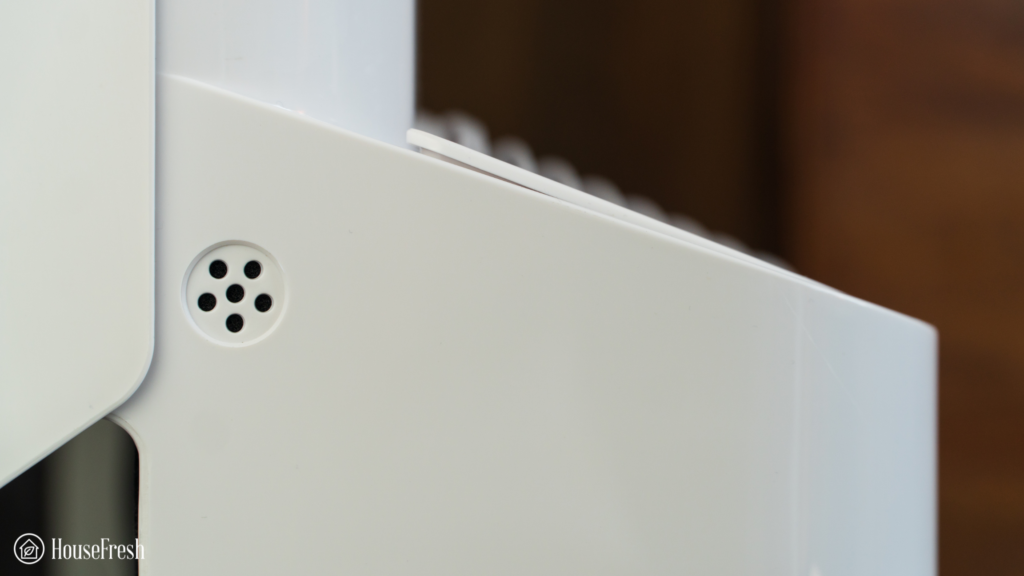 The air quality sensor is the main smart feature available on the Okaysou AirMax 10L Pro. The sensor changes color depending on the current level of indoor air quality. This feature allows you to enable auto-mode, a fan mode where the air purifier will automatically adjust fan speed levels based on the level of pollutants detected in the air.
In addition to the auto-mode, the AirMax 10L Pro includes four timer settings, a child lock, three fan speeds, and a filter rest light.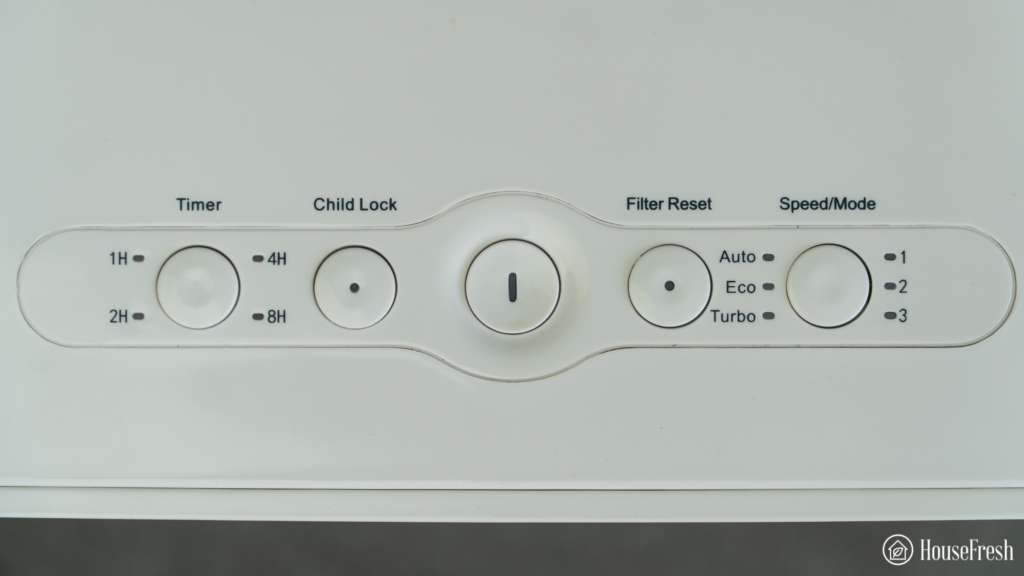 You don't get fancy touchscreens with the Okaysou AirMax 10L. Instead, you have four buttons that do everything.
"5-in-1 Purification System" Design Doesn't Match Our Expectations
Most air purifiers use a combination of HEPA and activated charcoal to remove gasses and particles from the air.
According to marketing materials, the Okaysou Airmax 10L Pro is "equipped with 5-in-1 purification system, washable dual-filter, nanois-Fflter, and honeycomb activated carbon filter".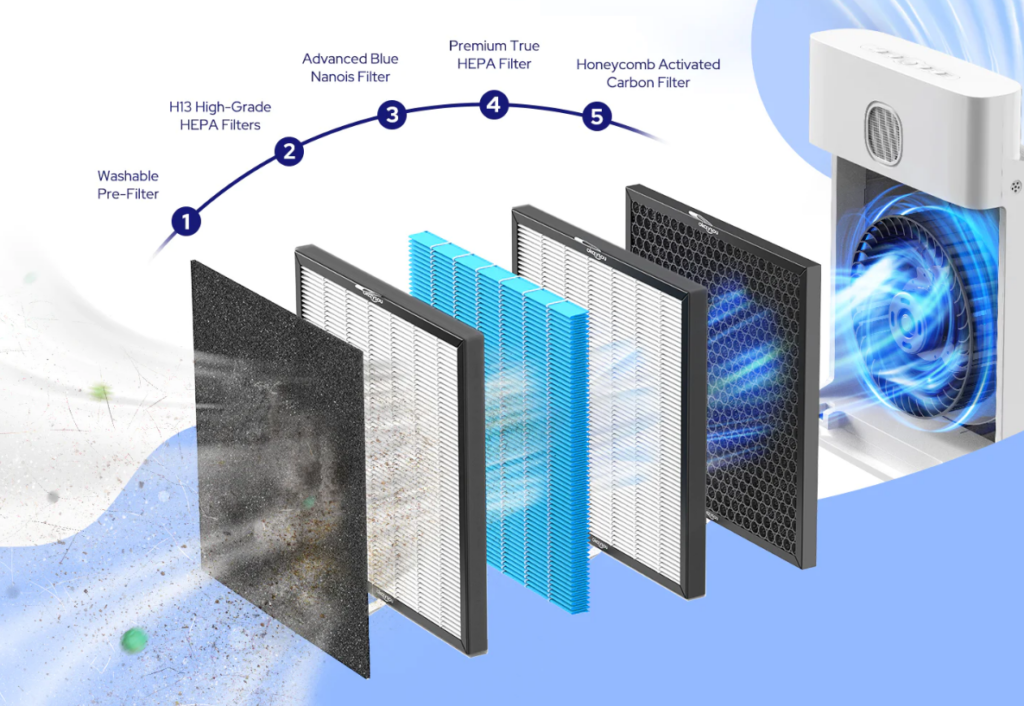 Based on the image and the description above, I was expecting a sizeable pre-filter, two HEPE Filters, one 'blue nanois filter', and an activated carbon filter. I kept looking inside the box because all I received was the following: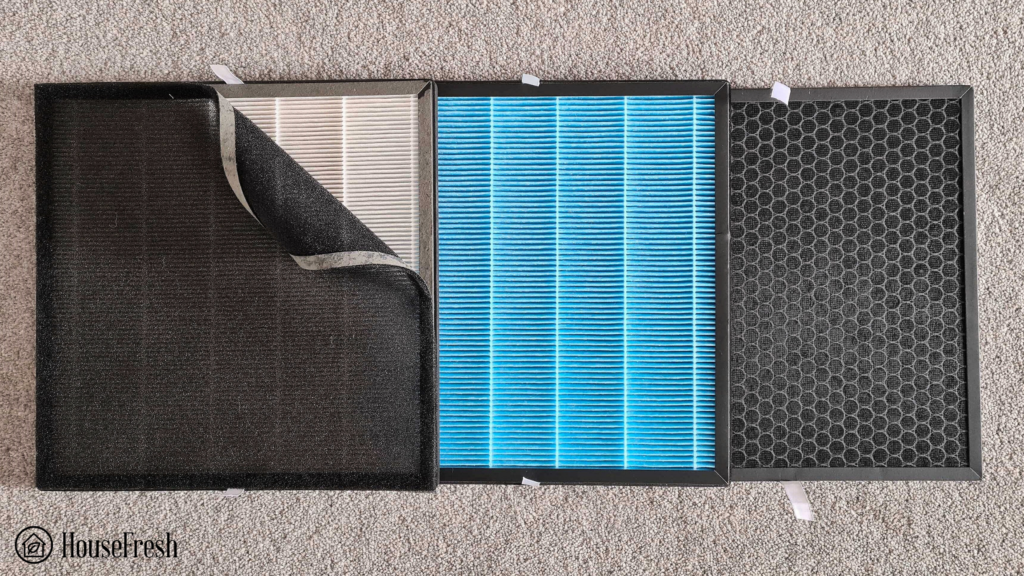 That said, I was pleased to see a honeycomb filter with active carbon pellets instead of the impregnated fabric you sometimes get in other budget air purifiers.
However, I believe this is misleading advertising. The H13 HEPA filter they show in their marketing materials in between the 'Advanced Blue Nanois Filter' and the activated carbon filter is not, in fact, two separate filters but just one that is blue on one side and white on the other:
A simple fix to the marketing materials would be to use a similar visualization as Okaysou uses in the user manual of the AirMal 10L Pro: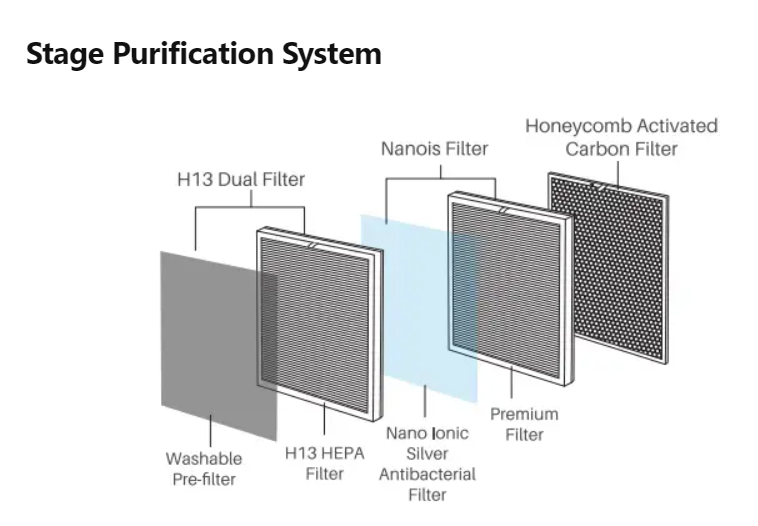 The diagram above makes it clear that the nanois filter and the 'premium filter' are one thing, not two.
One thing I noticed when I first got the filters out was how thin they were — the activated carbon filter was less than 1 cm wide.
Just to put this into perspective, here is a comparison shot showing the filter of the Alen BreatheSmart Flex side by side with the filter of the Okaysou AirMax 10L Pro: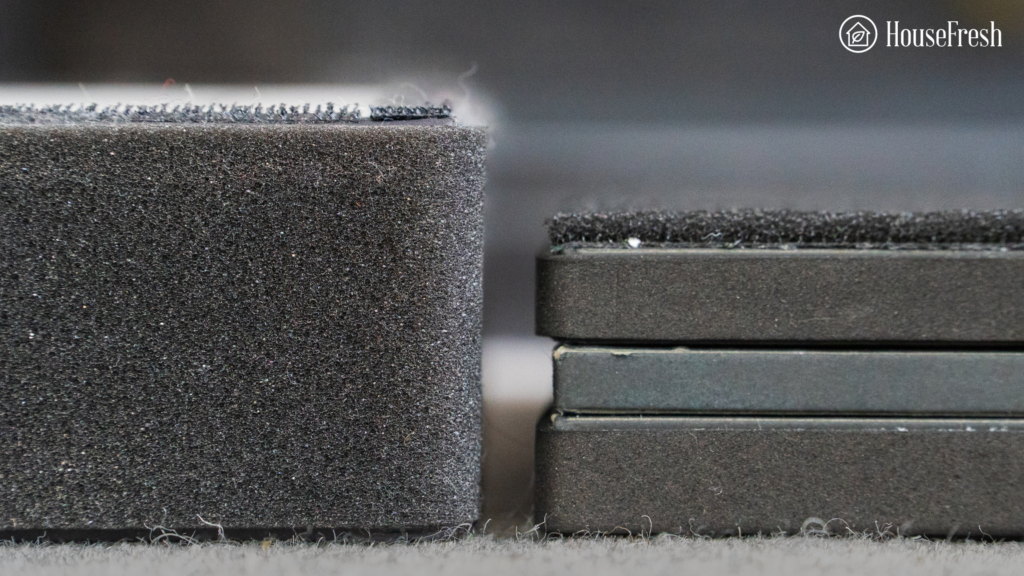 Another issue I found is the low quality of the pre-filter.
The pre-filter is attached to the HEPA using velcro, but when I tried to detach it for the first time, the glue became unstuck, leaving it to flap: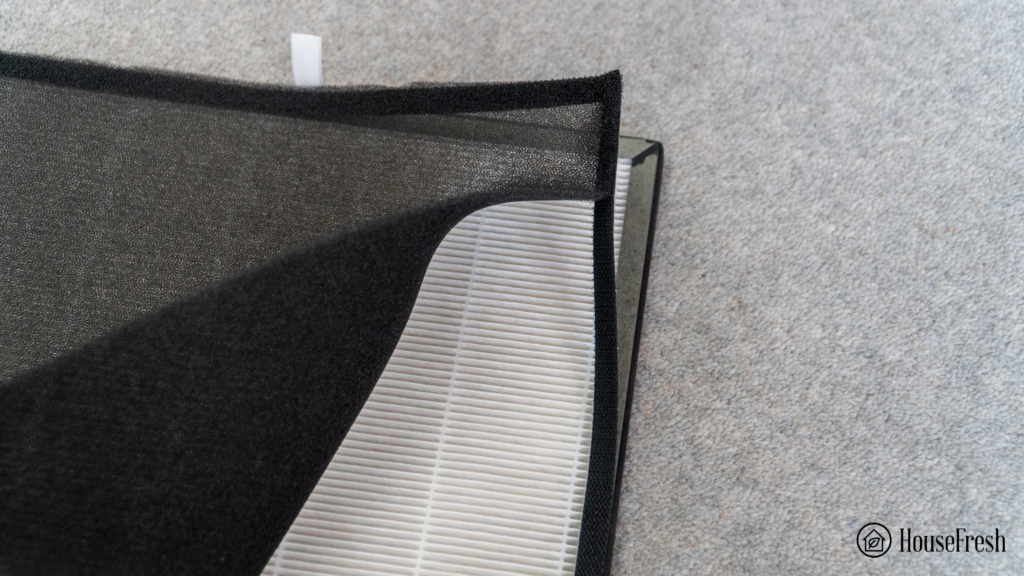 When it comes to the filtration technology in the Okaysou AirMax 10L Pro, the unit comes with a unique filter called "Advanced Blue Nanois Filter". It is a HEPA filter treated with silver ions, which are bioactive agents that can kill bacteria, viruses and other microorganisms.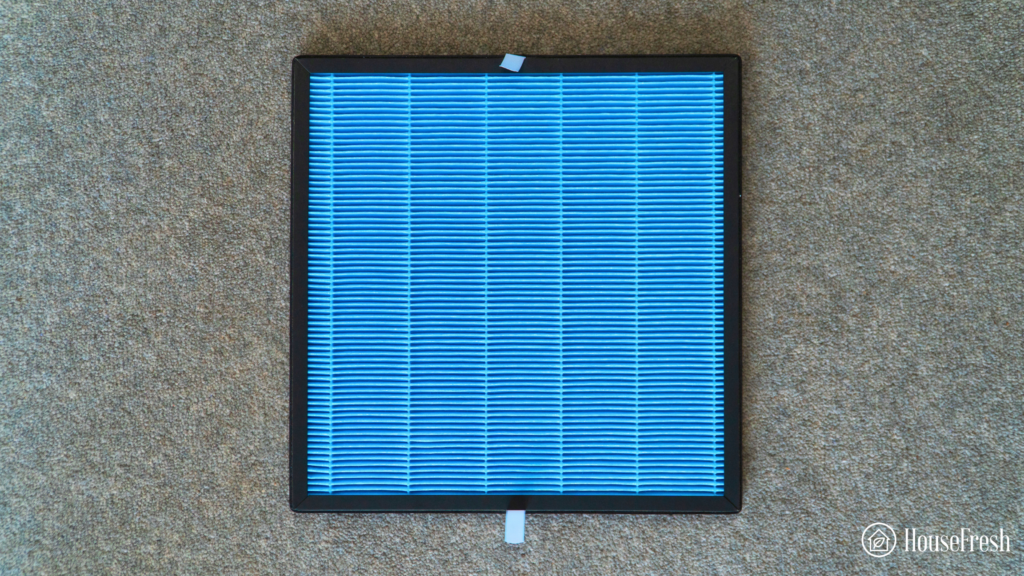 While there has been evidence that using a filter coated with silver ions can help reduce bacteria levels, there is also evidence of the toxic effect of silver ions and silver nanoparticles towards human cells.
Compared with other similarly designed air purifiers, there is a little gap on each side of the filters when they are sitting inside of the unit. I prefer a tighter fit to avoid air bypassing the filter.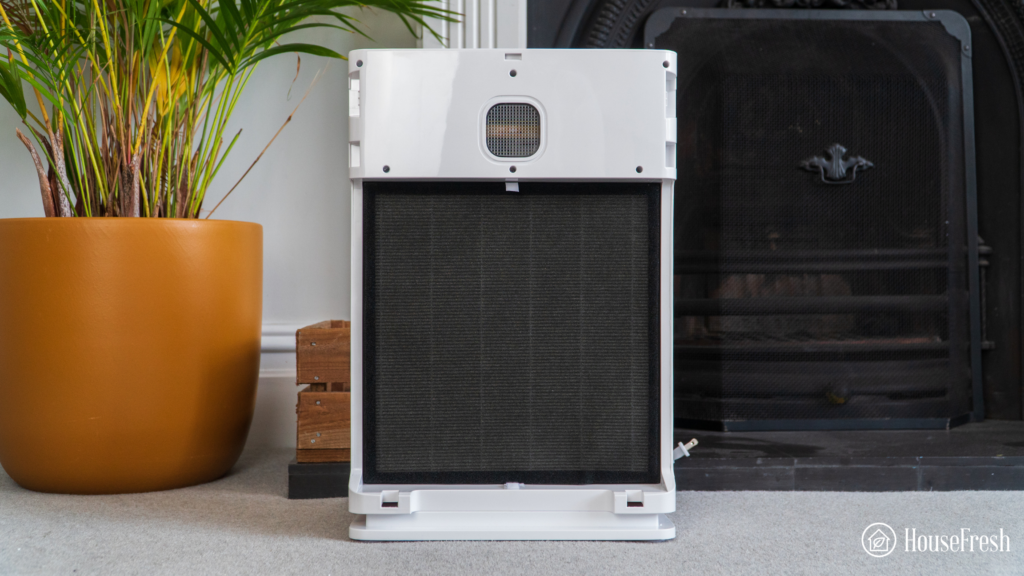 Accessing the filters is not difficult at all. Here is a video showing you what to do:
⚠️ As with all brand-new air purifiers, the filters for the Okaysou AirMax 10L will come in plastic bags. Make sure to remove them before you switch it on, or they won't be able to do anything to remove pollutants from your air.
After testing the unit and going through the filter's performance, I would have liked Okaysou to include one large H13 HEPA filter and a more robust activated carbon filter.
I disagree entirely with their marketing message that their 5-in-1 system is 40% better by using multiple filters. But more on that in the next section of my review, where I review our performance test results.
The Okaysou AirMax 10L Cleared Our Test Room in 44 Minutes
Like all the reviews we publish here at HouseFresh, we put the Okaysou 10L through our performance test: The results were disappointing.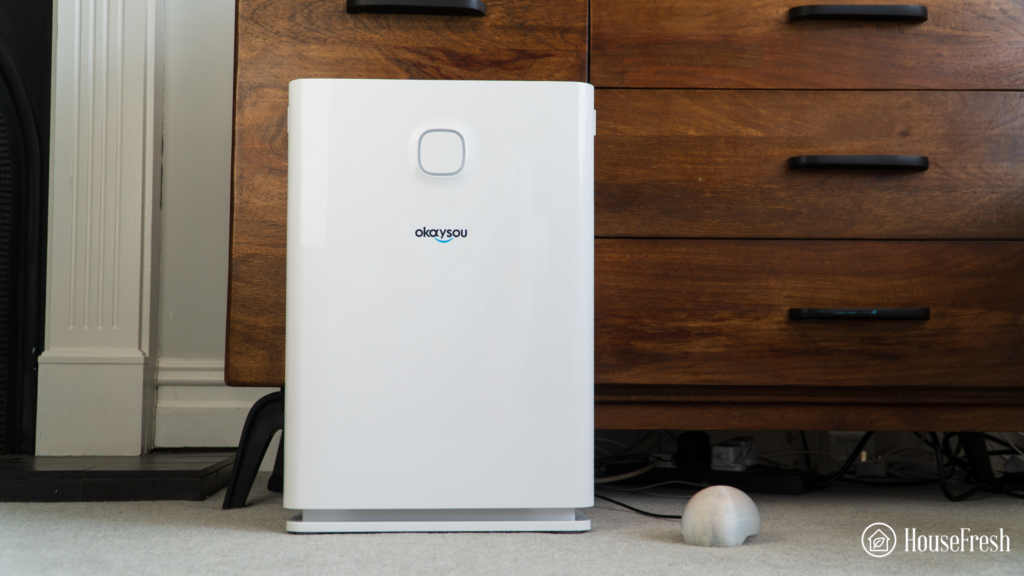 In our 705 cubic ft home lab, we simulate particle pollution and VOCs with an incense stick and use a Purpleair Indoor Sensor to monitor particulate levels. We then activate the air purifier at its maximum speed and measure the duration required to reduce the room's air quality to a PM1 level of zero.
This is what happened when we performed this air cleaning test on the Okaysou AirMax 10L Pro:
Air Cleaning Performance Test Results
With a CADR of 147 CFM, we expected it to clean our room quicker than the Levoit Core 300, but it took four more minutes.
Compared to the Blueair Blue Pure 411+, the difference between CADR and real-world performance is even starker; the Blueair 411+ has a CADR of 121 CFM yet managed to clean our room in one minute less.
I fail to see how Okaysou can give this air purifier a recommended room size of up to 1000 sq ft. This unit is way too underpowered for such a large space, so it is likely to be unable to clean the air once an hour.
Noise Levels Test Results
At 51dB at its highest speed, this aligns with other units at this price point and air cleaning power, such as the Levoit Vital 100 at 50dB and the Medify 25 at the same level of 52 dB.
As usual, we have also recorded a video so you can hear the sound with your own ears as noise levels can be a subjective thing:
---
The Cost to Run an Okaysou AirMax 10L: $166.13 Per Year
1. Electricity costs = $66.23 per year
Rising energy costs are unlikely to go away soon. So these costs must be considered when looking at a device that you want to run continuously, like an air purifier
We saw 63.3 watts at its highest fan speed — much higher than we expected for this cleaning performance. I imagine including the extra filters means the fan must work harder to push air through them effectively.
In comparison, the Blueair 411+ cleaned our room one minute quicker and only pulled 10.4 watts.
So, from an energy usage standpoint, the Okaysou AirMax 10L is much poorer when compared to other similar air purifiers.
2. Filter costs = $99.90 per year
Mechanical filter technology uses HEPA and activated carbon to capture particles and gases that, over time, are held in the filter material. After some time, the filter will become so full of pollutants that you have to replace them to sustain cleaning performance.
Okaysou recommends changing the filters every six months for the AirMax 10L and genuine filters are available for $49.95, equating to nearly $100 per year
This cost is less than the Dyson range of air purifiers and high-end units like the IQAir Healthpro Plus. But it is higher than the genuine filters for the Levoit Core 300 ($39.99.)
As with Levoit, Amazon does have several non-genuine filter options for less than that, which bring the yearly cost down by half, with two filter sets available for $52.99.
Technology
5-Stage H13 True HEPA Filtration System with Activated Carbon Pre Filter
2-Pack Replacement True HEPA and Activated Carbon
Technology
5-Stage H13 True HEPA Filtration System with Activated Carbon Pre Filter
Technology
2-Pack Replacement True HEPA and Activated Carbon
---
Bottom Line
The Okaysou AirMax 10L Pro is an overly marketed product that doesn't live up to the hype
In my opinion, Okaysou contacted us many times because they wanted us to write an overly optimistic review. It's clear that they are experts in marketing, but the AirMax 10L is not an air purifier I would recommend.
While it's pretty cheap, $199.99-$149.99, you still get better air cleaning performance with the $99 Levoit Core 300.
I don't like how they present their filter process as 40% better than standard methods. If anything, our tests showed that it has less air-cleaning power than standard HEPA and activated charcoal.
I have been around the world of air purifiers for 20+ years, and it's a regular occurrence that a new brand comes to market with many promises and a price that is easy to digest.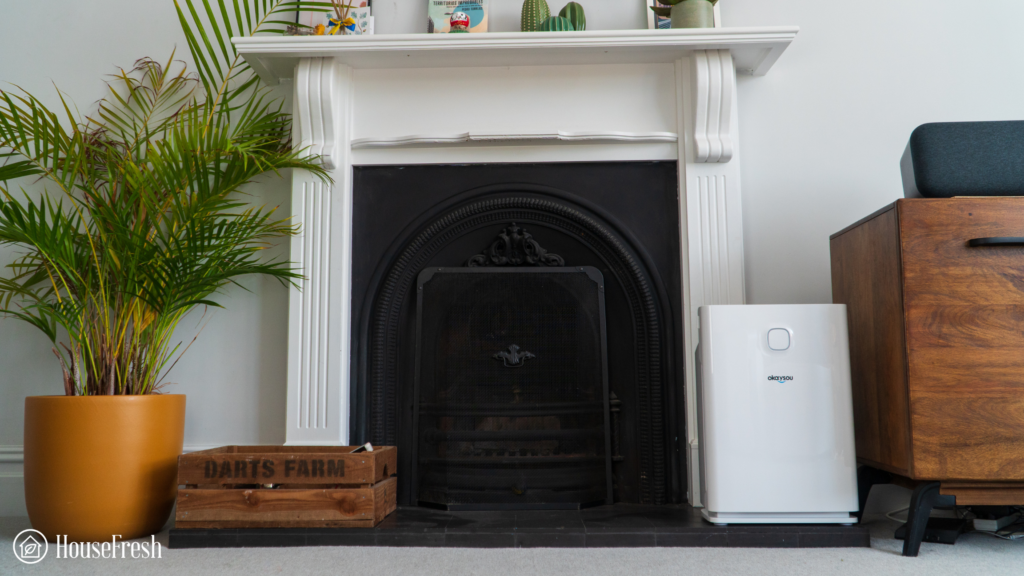 Sadly, the Okaysou, while not the worst air purifier we have tested, fails to match its marketing promises and for that alone, I would not recommend it.
Instead, I would recommend the Levoit Core 300 and Blueair 411+ as they clean the air quicker for less money. They cost less initially and in the long term and come from a brand that doesn't bend the truth to sell more units.
---
SOURCES
We calculated the monthly energy consumption costs with the help of the Department of Energy's appliance energy calculator. We calculated yearly costs associated with running Okaysou AirMax 10L Pro for 24hs a day for 365 days. We ran this calculation utilizing the US average utility rate of $0.12/kWh as of June 21st, 2023.
Last update on 2023-09-26 / Affiliate links / Images from Amazon Product Advertising API