It still shocks me to think that in the 1950's cigarettes used to be recommended by doctors.
As of 2022, everyone understands the severe health consequences of inhaling cigarette smoke, but did you know that air in your home can be 2-5x worse than the air you breathe outside?
Smoke is a combination of airborne particles and gasses. Lack of adequate indoor ventilation means that even small amounts of cigarette or weed smoke from a neighbor can hang around the room for days. In the case of wildfire smoke, you don't have the option to open a door or a window, so you need a way to clean the air in your home.
The scientific community has proven that using HEPA and activated charcoal air purifiers can remove particulate and gas pollution from all types of smoke. Wildfire smoke, weed smoke, cigarette smoke and smoke generated from cooking present very different situations, so there isn't just "one" air purifier we recommend for all smoke issues.
Depending on the type of smoke, we recommend units with bigger activated charcoal filters and considered sound levels for those we expect to use 24/7. As always, look for the unit that fits your specific use case. Keep in mind that I assume larger than average room size to avoid the prevalent issue of an underpowered unit for the wrong-sized room.
Why You Should Trust Our Recommendations
We never recommend an air purifier unless we've thoroughly tested it. The five air purifiers we recommend for smoke below are evaluated from the results of the 40 air purifiers we tested in 2022.
Here's what we do:
We create particulate pollutants in our home lab with the help of incense sticks.
We use a Purple Air Indoor sensor to record how long the air purifier takes to reduce the levels of PM1ug/m3, PM2.5ug/m3 and PM10ug/m3 particles in the air.
We track energy consumption with an electricity usage monitor.
We measure noise levels in decibels across all power levels available.
Then we consider issues around the specific cause of indoor air pollution, in this case, smoke.
What we looked for when selecting the best air purifiers for smoke:
✅ HEPA filter
Every single air purifier on our list uses a HEPA filter. HEPA is highly effective at removing particulate matter from the air.
✅ Activated charcoal
An old technology that removes VOCs and gasses, a critical component in smoke.
✅ No unproven technology
We avoided UV, UV-C, IONIZERS and PECO as they often increase costs without increased performance and potential health risks.
✅ High CADR
You need an air purifier that is powerful enough to remove smoke quickly. This is especially true with wildfire smoke. That is why all the units on this list are 260 CFM — 410 CFM
Ok, now let's get down to our list of the best air purifiers for four common causes of indoor smoke pollution.
The Best Air Purifier for Cigarette and Cigar Smoke: Levoit Core 600s.
The Levoit Core 600S is the fastest unit we have tested; it cleaned our 710 cubic foot room in 15 minutes. In comparison, the smaller Levoit Core 300 took 40 minutes!
Cigarette and cigar smoke is harmful, so you want to remove it as quickly as possible. Based on our performance tests, the Levoit Core 600S is currently the best unit for eliminating particulate pollutants.
The Levoit Core 600s has an H13 HEPA with activated charcoal included in the same filter, so it will also be able to deal with the gasses and odors created by cigarette and cigar smoke.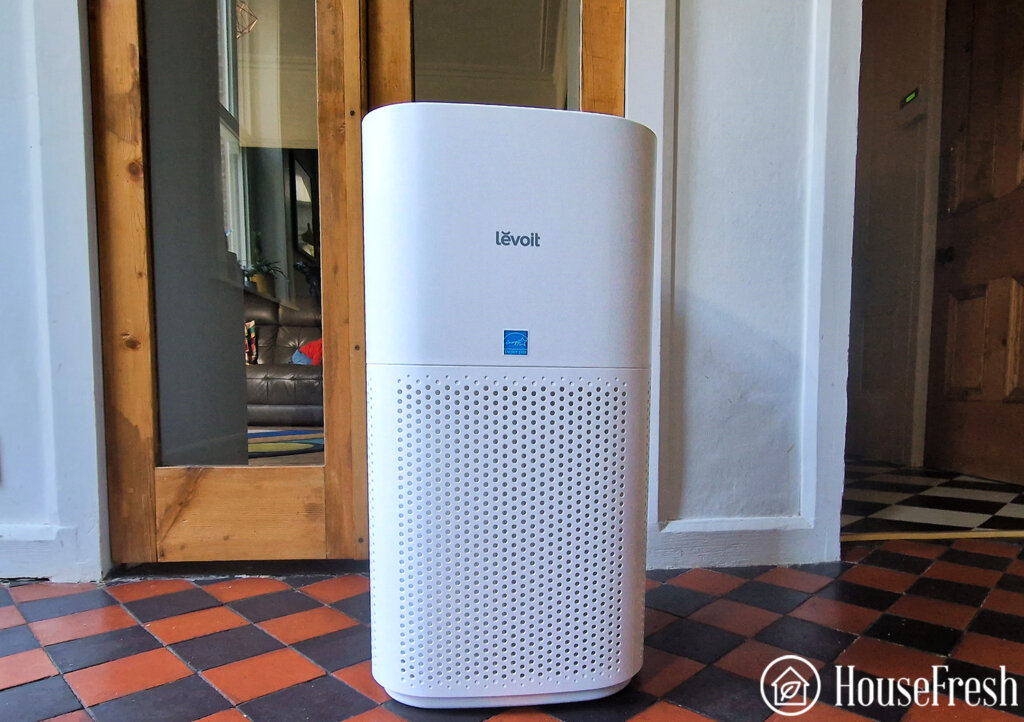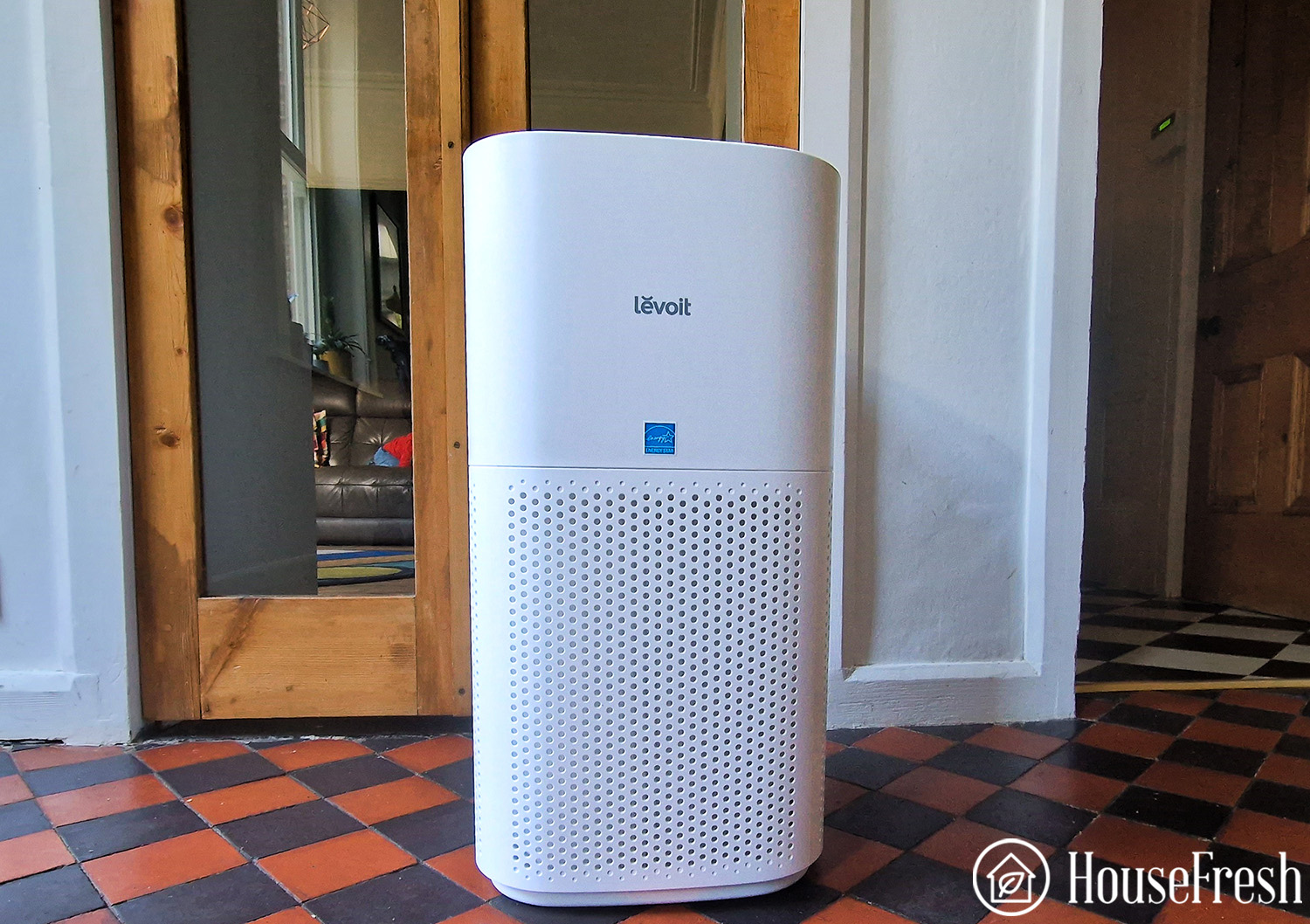 What Makes This the Best Air Purifier for Cigarette & Cigar Smoke
👍 Fastest to clean our test lab room — 15 minutes
👍 Contains activated charcoal for odors and gasses
👍 Auto-mode useful for neighbors who smoke at different times
👍 App support for use when away from home but can still remove gasses and particulates
SPECS & FEATURES
| | |
| --- | --- |
| Purifier technology: | H13 True HEPA filter |
| CADR (CFM / m³/h): | 410 CFM (697 m³/h) |
| Recommended room size: | 635 sq. ft. |
| Filter life: | 6 months |
| Noise level (low — high): | 26 — 55 dB |
| Dimensions (in inches / in cm): | 12.3L x 12.3W x 23.6H inches / 31.3 x 31.3 x 60 cm |
| Weight (in pounds / in kg): | 13.7 lbs / 6.2 kg |
| Energy consumption: | $102.11 per year |
| Time to clean our test room: | 15 minutes |
Weed is not legal in every state, but there has been a significant increase in the amount of weed smoke in those states where it is. Weed smoke, while not as dangerous as tobacco smoke, is still carcinogenic and has a strong odor that doesn't go away quickly.
We chose the Alen 75i because it runs quietly but is still powerful enough to remove particulate particles rapidly. This unit has a large amount of activated charcoal when you go for the pet filter option, so it will be a better choice for those wanting to remove odors quickly.
The Alen 75i has an app and a lifetime guarantee if you stick with their filter subscription. It is a brand that has been around for a long time and we even reviewed the ten-year-old Alen A350, which still performed well but needed a lot of electricity.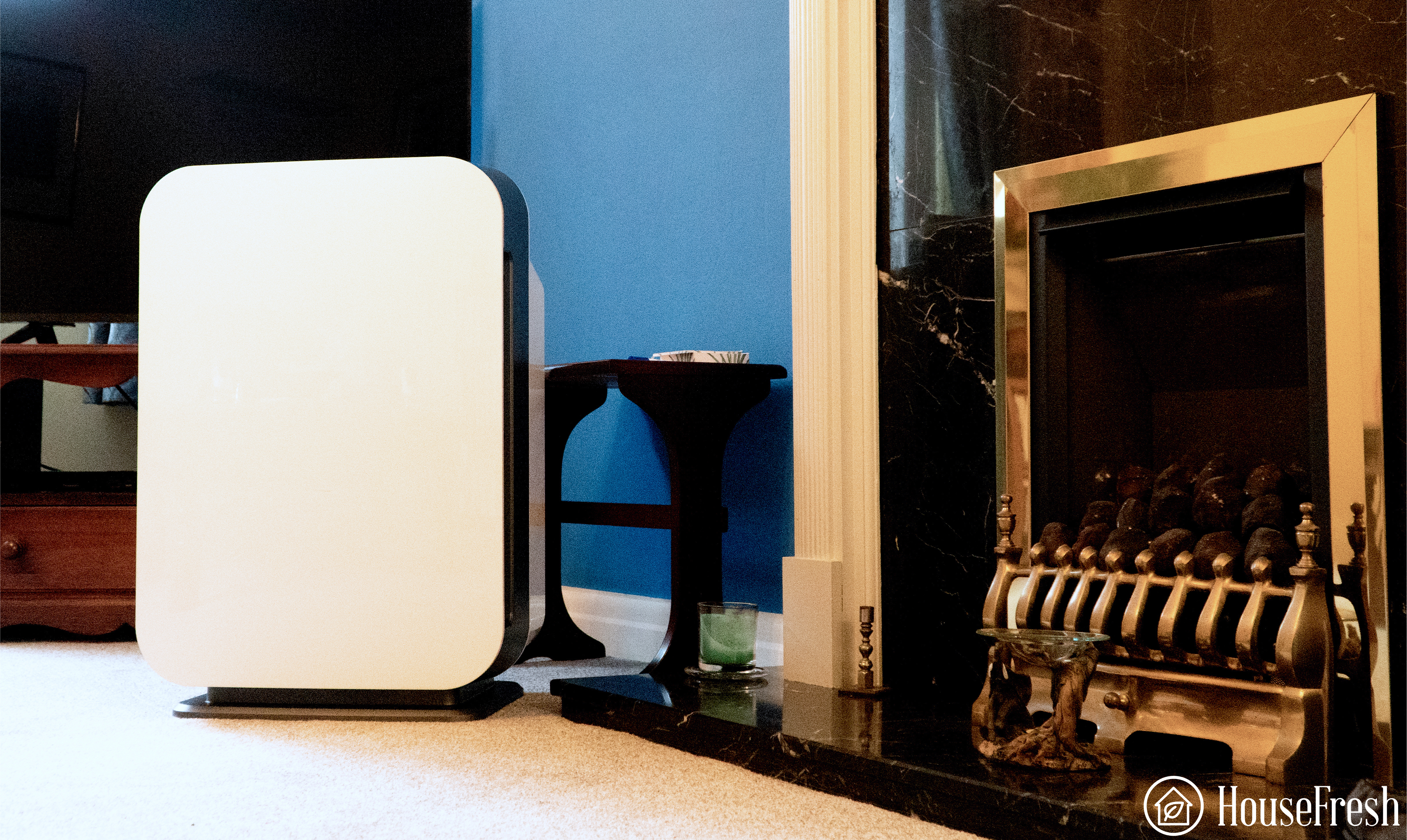 What Makes This the Best Air Purifier for Weed Smoke
👍 3.6 lbs of carbon will be able to deal with easily the odors generated from weed smoke
👍 Auto system that can come on only when a neighbor lights up
👍 Pink noise and 49dB max means this is an easy unit to leave on at night and should promote sleep
👍 Able to quickly remove particles from our test lab
SPECS & FEATURES
| | |
| --- | --- |
| Purifier technology: | Pre-filter, H13 HEPA and Activated Carbon filters |
| CADR (CFM / m³/h): | 347 CFM (590 m³/h) |
| Recommended room size: | 1200 sq. ft. |
| Filter life: | 12 – 15 months |
| Noise level (low – high): | 25 – 49dB |
| Dimensions (in inches / in cm): | 25H x 15W x 8.5D inches / 63.5H x 38.1W x 21.6D cm |
| Weight (in pounds / in kg): | 12.2 kg / 27 lbs |
| Energy consumption: | $ 97.76 per year |
| Time to clean our test room: | 24 minutes |
The Best Air Purifier for Wildfire Smoke: Smart Blast Mini
Wildfire smoke was shown to be more dangerous than the pm2.5 particulate pollutant we see in daily life. During wildfire season, the number of contaminants in the air can be extremely high, so removing them from your home air is essential.
The Smart Blast mini is not an easy unit to live with, it's large and uses a lot of electricity, but it's the air purifier I want next to me during the wildfire season. It is rated with a CADR score of 435 CFM and does a great job removing VOCs with its optional VOC filter.
What Makes This the Best Air Purifier for Wildfire Smoke
👍 Big size allows it to clean a lot of air quickly
👍 Large, activated carbon filter for gasses and VOCs
👍 53dB at the highest level — meager noise output so easy to leave on 24/7
👍 Pure performance, no app or auto mode on this unit
SPECS & FEATURES
| | |
| --- | --- |
| Purifier technology: | H13 HEPA filter |
| CADR (CFM / m³/h): | 435 CFM (740 m³/h) |
| Recommended room size: | 915 sq. ft. |
| Filter life: | 1.5 — 2 years |
| Noise level (low — high): | 44 — 53dB |
| Dimensions (in inches / in cm): | 22.6L × 12.9W × 24.8H inches / 57.5L × 33W × 63H cm |
| Weight (in pounds / in kg): | 59 lbs / 26.8 kg |
| Energy consumption: | $265.04 per year |
| Time to clean our test room: | 17 minutes |
The Best Air Purifier for Cooking Smoke & Kitchen Fumes: Levoit Core 400s
While smoke from burning food is not as dangerous as cigarettes or wildfire smoke, you will still want to remove it from your family's air.
Start by removing as much smoke as possible using the kitchen extraction fan. If you still have an issue with kitchen smoke, we recommend using an air purifier like the Levoit Core 400S to ensure your air is clear of smoke generated in your kitchen.
Unlike the Levoit Core 600S, the Core 400S is a more manageable size to keep on a countertop and has the same auto-mode and app support as its bigger brother.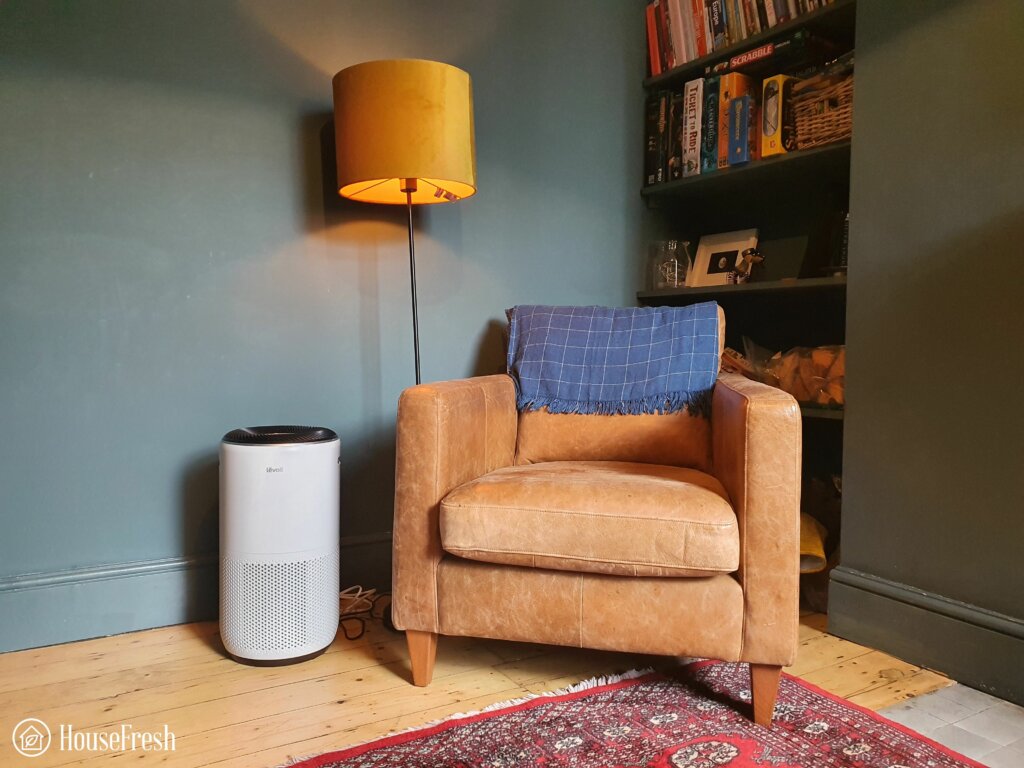 What Makes This the Best Air Purifier for Cooking Smoke
👍 Small enough for kitchen countertops
👍 Powerful sufficient to remove particulate pollutants
👍 Has an integrated activated carbon filter with the HEPA H13
👍 App support from smart-home features
SPECS & FEATURES
| | |
| --- | --- |
| Purifier technology: | H13 True HEPA filter |
| CADR (CFM / m³/h): | 260 CFM (442 m³/h) |
| Recommended room size: | Up to 403 sq. ft. |
| Filter life: | 6 months |
| Noise level (low — high): | 24 — 52 dB |
| Dimensions (in inches / in cm): | 10.8L x 10.8W x 20.5H in / 27.4L x 27.4W x 52H cm |
| Weight (in pounds / in kg): | 14.1 lbs / 6.4 kg |
| Energy consumption: | $53.23 per year |
| Time to clean our test room: | 33 minutes |
Common Questions About Air Purifiers for Smoke
🤔 Do air purifiers work for smoke?
Yes. Smoke is made up of gasses and particles that don't burn thoroughly. HEPA is an excellent way of removing particles from the air and has been proven in many academic studies. Activated charcoal filters are good at eliminating gasses, including any odors.
If you have a large-sized fan combined with a good-sized HEPA and activated charcoal, you can remove both particles and gasses generated from smoke. Even a simple DIY air purifier will do the job well.
🤔 Do humidifiers help with smoke?
Nope. A humidifier will increase humidity but does nothing to remove particles or gasses caused by smoke. You need to use air from outside (ventilation) or an air purifier to remove particles and gasses generated by smoke.
🤔 How long does a cigarette smell last in a room?
Even with a window open, a cigarette odor can stick around for two to three hours. Without ventilation, the odors can be around for days. The leading cause of the odors is the gasses released, so you will need an activated charcoal filter to remove these from the air.
🤔 How do you clear smoke out of a room quickly?
The first thing is to increase ventilation by opening a window or door. However, odors can often stick around in the air for up to three hours, even with open windows. An extra thing you can do is to use a HEPA/Activated charcoal air purifier to remove the particles from the air directly.
---
Why Should You Trust HouseFresh?
Far too many "air purifier reviews" are made by people with little understanding of the air purifier industry. On top of this, most reviews are incredibly shallow and based solely on comparing manufacturers' data. This means rankings of top units are made without experiential testing to compare the real-life performance of the many different air purifiers in the market.
Here at HouseFresh, we bring together experts who have been evaluating air purifiers for the last 10+ years, utilizing a solid process for real-life performance testing. That is why we can reveal an air purifier's actual reality based on the data we have gathered and analyzed ourselves in our homes.
Add to that our knowledge (and borderline obsession) with the industry, and you will get helpful reviews that will cut through all the marketing BS manufacturers like to push on people.
Our ultimate goal with all our air purifier reviews is to help more consumers look beyond the marketing jargon and see clearly which air purifiers do an excellent job cleaning the air.
That's why:
1. We test all our air purifiers using a Purple Air Indoor sensor that allows us to have real-time data on pollutant levels for particles sized PM1ug/m3, PM2.5ug/m3, and PM10ug/m3 and share this data with our readers.
2. We don't take freebies in exchange for reviews. We want to be free to say if a product sucks, and accepting free units doesn't align with our neutrality goal.
3. We compare the actual real-life performance between units because we test all our units in the same room performing the same task. This allows us to offer an easy-to-understand, jargon-free answer to the question, "how well will this air purifier clean the air in my room?"
4. We use the air purifiers in our own homes to evaluate long-term user experience, as well as keep an eye on long-term costs, such as how often its filters need replacing under normal conditions.
5. We are continuously evaluating the latest air purifier models on the market and identifying those that we want to test. To give you an idea, as of October 2022, we have tested 40 air purifiers in our home lab.
SOURCES
Monthly energy consumption costs have been calculated using our air purifier electricity usage calculator, which allows us to calculate daily and yearly charges associated with running an air purifier for 24hs a day.
You can customize the result by air purifier wattage and by state. In the case of the calculations we shared on this page, we used California as our base state for energy prices.