Whether you're winding down after a hard day's work or celebrating a special occasion, for cigar smokers, there's nothing better than savoring the flavors of a good stogie. The issue is, however, that smoking cigars creates a thick smoke packed with carcinogenic compounds that fill the room, sticking to your clothes and furniture.
According to the CDC, 3.5% of all adults in the U.S. smoked cigars in 2021; if that's you, then you most likely don't mind the odor, but that potent aroma might smell musty and unattractive to people around you.
I don't need to preach about the health implications of smoking cigars or what secondhand smoke can do to others, so I won't waste your time. But, unless everyone in your home loves the harmful toxins that makeup cigar smoke, you'll want to clear it before it becomes a problem.
The concerned cigar connoisseurs amongst you (I'm looking at you, Columbo) needn't worry, though. There is a simple solution to help eradicate the smoke and odors created by smoking cigars and that's by introducing an air purifier to your home.
In this guide, I've selected seven air purifiers that will remove cigar smoke (and its harmful particles) from the air and eliminate the odor it leaves behind.
---
Staff picks: Top 3 air purifiers for cigar smoke
For those seeking a rapid fix to rid their home of cigar smoke, check out our top recommendations:
---
Of course, everyone's home or cigar-smoking hotspot will be different. With this in mind, we included a wide range of purifiers that will help eradicate smoke, odors and some unwanted byproducts found in secondhand smoke across different-sized spaces and accommodate different budgets.
Check out the complete list below to find the perfect unit for your needs and see which purifiers we suggest you avoid.
The best air purifier we have ever tested looks good and performs incredibly well — the perfect choice for a stylish cigar lounge.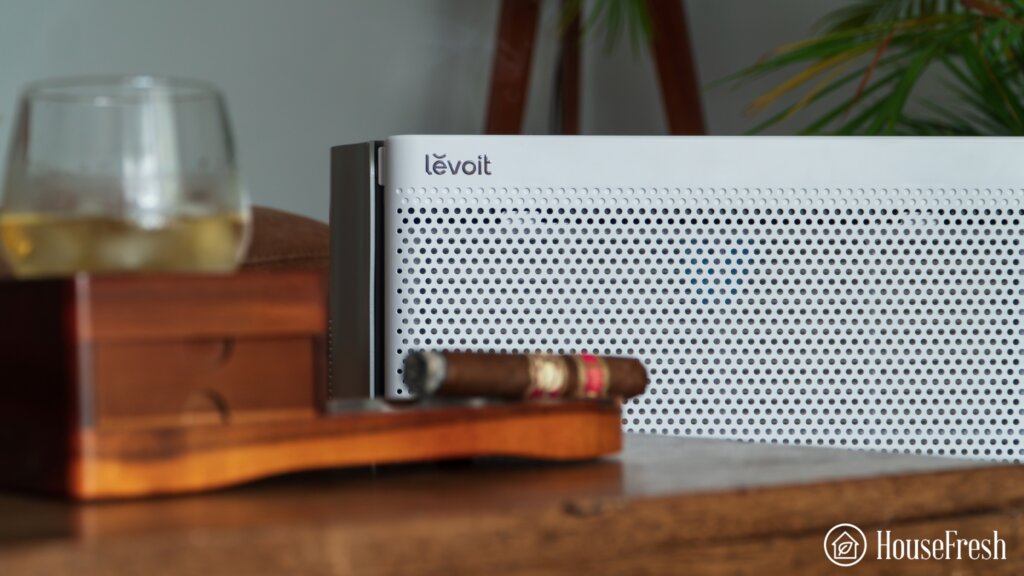 Levoit's EverestAir really stands out in the current market. It boasts speed, style and impressive power, all wrapped into one sleek unit, making it a rapid and effective solution for eliminating particles and toxins from cigar smoke in spaces up to 558 sq. ft.
With its high CADR of 360 CFM, we had high hopes for our performance testing…and it didn't disappoint. The EverestAir cleared our home lab of particles measuring 1 micron in just 13 minutes, a new HouseFresh record (at the time of publishing).
The robust three-stage circular filtration system features a pre-filter to remove larger contaminants, a main filter that can capture the tiniest particles from cigarette smoke and a generously packed Activated Carbon filter that effectively handles the gasses and odors produced by cigars.
The EverestAir can be fully operated via Wi-Fi, offers convenient voice command control and allows you to manage settings, set timers and easily monitor your filter's life through the VeSync app on your smartphone. The Auto Mode accurately adjusts fan speed based on the room's air quality, eliminating any guesswork and will kick in as soon as the first cigar is lit until all the smoke is cleared from the air. This is why I've chosen the EverestAir as my top recommendation.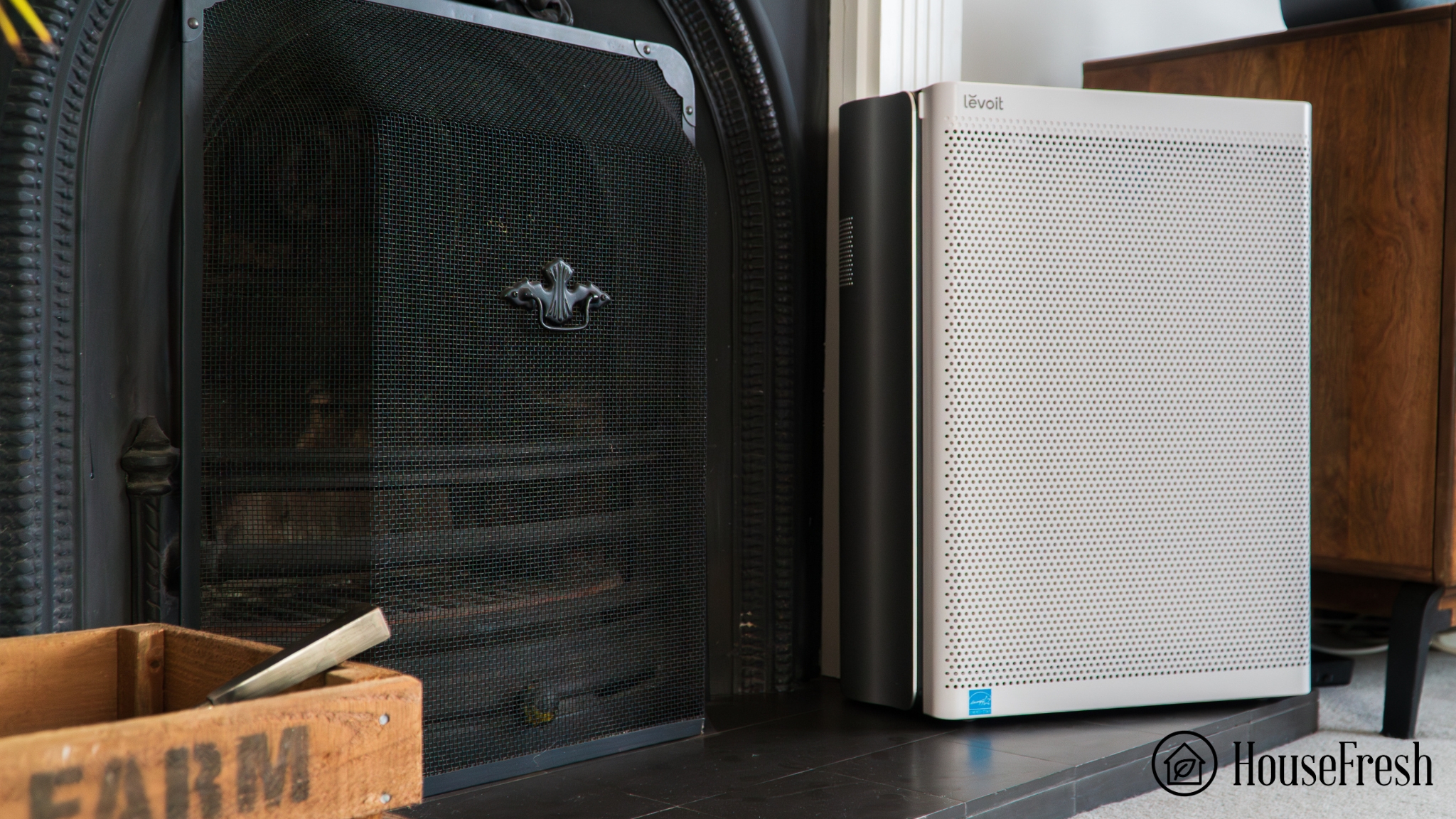 SPECS & FEATURES
Levoit's EverestAir delivers a comprehensive package that aligns with the expectations of a top-tier air purifier.
2. Best budget option for large spaces: Levoit Core 600S
The next best option for those with large rooms — and one that won't break the bank, compared to the EverestAir.
When we think about how smoke permeates the air, it's clear to see the importance of acting quickly before it sticks to belongings or imposes on others around you. This is precisely why the Levoit Core 600S is an excellent choice for combatting cigar smoke. Thanks to Levoit's VortexAir Technology and a colossal CADR score of 410 CFM, it made light work of the tiny-sized particles in our home lab by clearing them from the air in 15 minutes.
Under the hood is Levoit's signature three-stage filter that combines a nylon pre-filter with the main airborne particle filter to capture those harmful particles contained in cigar smoke and a high-efficiency activated carbon filter to remove that potent odor.
This purifier's merits include more than powerful fans and filters, though. With the 600S, you also get many smart features that make cleaning your air a breeze. With the VeSync app or smart speaker connectivity, you don't have to move from your smoking chair to operate this purifier.
Use your phone or voice commands to fire up the unit remotely. The 600S also has an in-build air sensor and auto mode, which will monitor the air and adjust the settings automatically whenever cigar smoke (or any other pollutant) has been identified.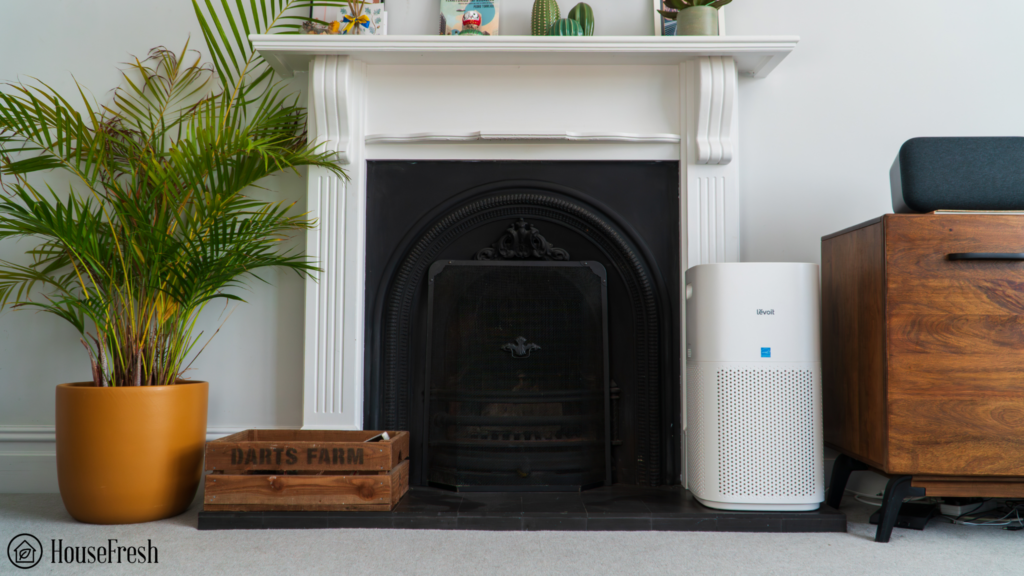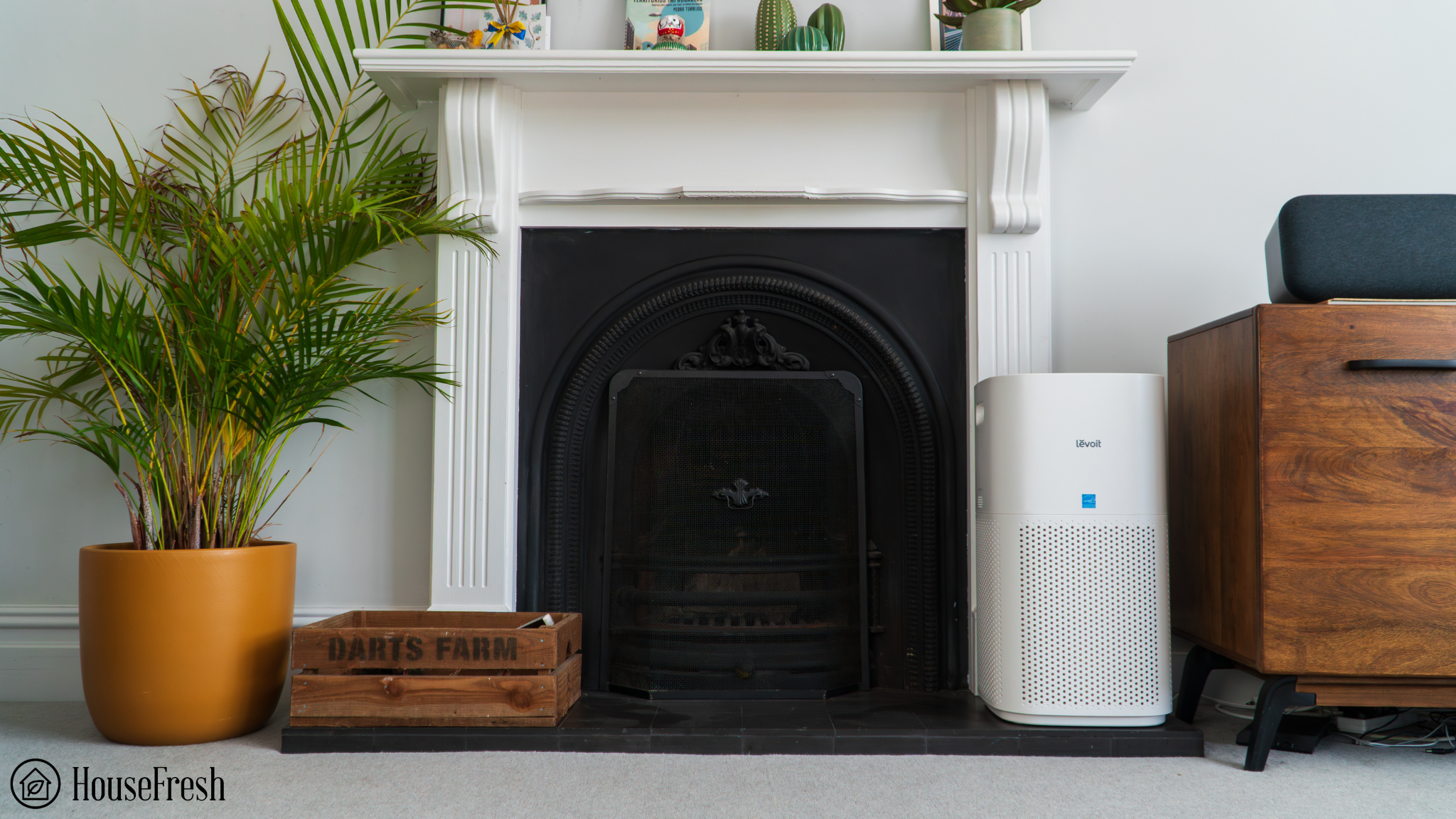 SPECS & FEATURES
If you are looking for an air purifier for a space of up to 635 sq. ft. but have a restricted budget of up to $300, then the Core 600S is the unit for you.
3. Best budget option for small spaces: Levoit Core 300
A compact, efficient and cheap air purifier for spaces no larger than 219 sq. ft.
The Levoit Core 300 is your go-to for powerful air purification that won't break the bank. This compact yet efficient unit stands out for its remarkable ability to tackle smoke and pollutants head-on so that you can spend your hard-earned money on more cigars.
As you can see, we put the 300 through its paces by blowing cigar smoke directly into its path to see how it performed under extreme stogie conditions. The caveat, we did enjoy a nice whiskey whilst performing our extensive cigar smoke tests…don't judge.
Don't let its size fool you; the Core 300's cylindrical design makes it a space-saving champion. With a CADR of 145 CFM, it removes particulate pollution of 1 micron in our small room of 705 cubic feet in 40 minutes. While it might not handle expansive spaces like some pricier options, it's a decent choice for smaller areas and those on a strict budget.
Featuring Levoit's trusted 3-stage filtration system, the Core 300 boasts a pre-filter, an airborne particle filter and activated charcoal pellets. Unlike many budget models, this purifier uses these pellets to effectively neutralize cigar smoke's odors and gases.
Setup is a breeze and the user-friendly interface ensures anyone can enjoy its benefits. Packed with high-tech features, the Core 300 is our top pick for effective and economical air purification for smaller rooms with a max of 150 sq. ft.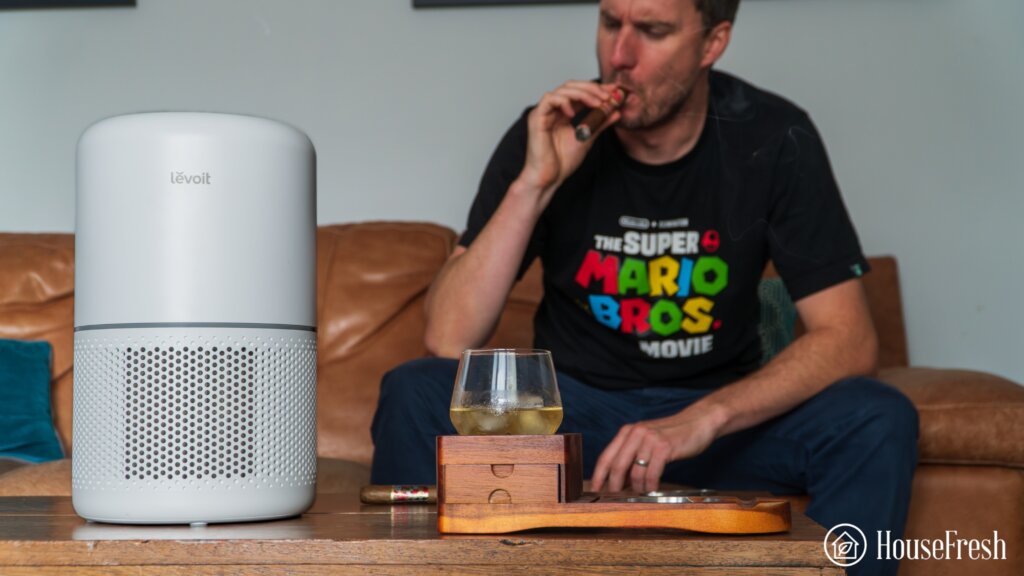 SPECS & FEATURES
At under $100, the Core 300 comes with only some of the bells and whistles of its upgraded version, the Core 300S. But when you're targeting cigar smoke, these features are less important.
When running at its top speed, this unit is as quiet as moderate rainfall, yet its cleaning performance makes it the third fastest air purifier we have tested.
When you're enjoying your cigar, the last thing you need is a noisy fan ruining the vibe. That's why I've included Smart Air's Blast Mini in our guide. This purifier is a juggernaut for cleaning the air and manages to keep the noise down.
You may (as we were) slightly confused by its name as there's nothing 'Mini' about this air purifier, but for good reason. With its large fan and massive filter, the Blast Mini cleared the contaminants from our performance testing room in 17 minutes.
Smart Air is relatively new to the purifier market. Still, it has made an immediate impact thanks to its ethos, which focuses on power and performance over fancy flourishes and futuristic design. This approach pays dividends, as we can see from the Blast Mini's CADR score of 435 CFM, the highest performance rating on our list.
So, how has the new boy on the block achieved such impressive stats? Well, take a peek under the surface of the Blast Mini and you'll find a super powerful fan, a long-lasting H13 HEPA filter and a heavyweight activated carbon filter too, but not much more. This simple approach allows Smart Air to center its production costs on ensuring its fans and filters are the best.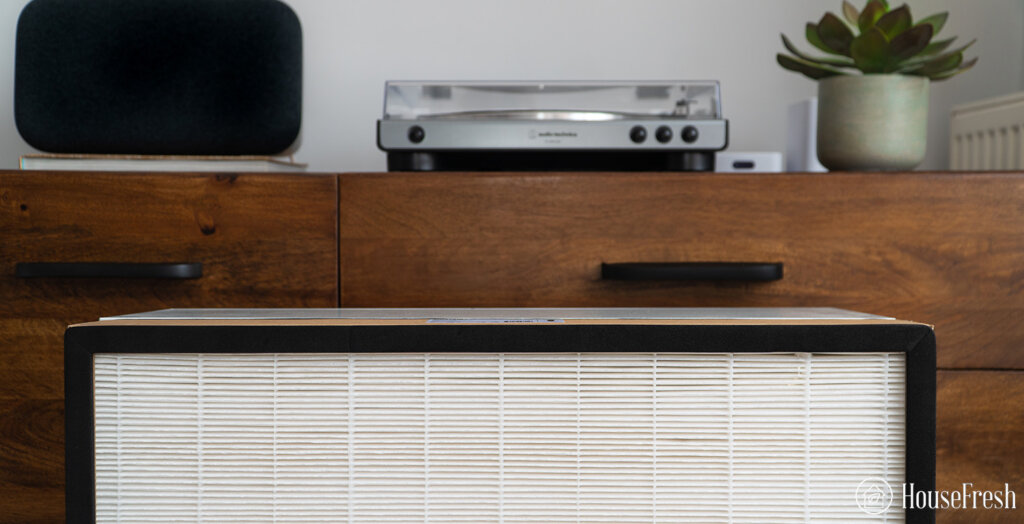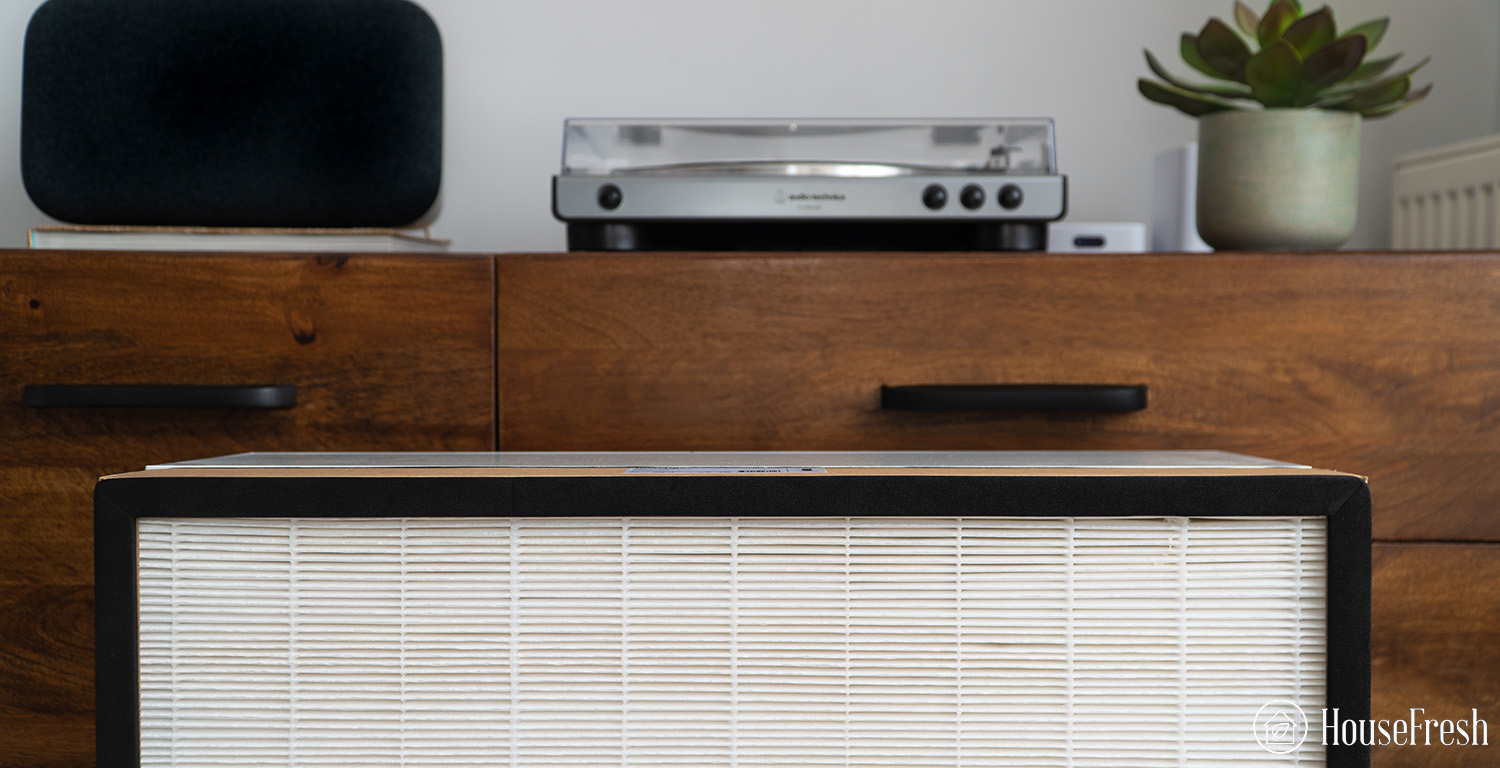 It's rare to find an air purifier for large rooms that keeps noise to a minimum. With its highest fan speed hitting only 49 dB, check out how it compares to other units of a similar size/performance.
SPECS & FEATURES
While you may not find a smart sensor or digital display, you will have a unit that can transform the air in spaces up to 915 sq. ft., making it an excellent option for larger rooms, communal spaces, or offices.
An air purifier manufactured in Switzerland, following the top quality standards in the world.
The IQAir HealthPro Plus is a behemoth unit compared to the rest on the list. Widely regarded as the godfather of clean air, IQAir has developed a few models that would warrant a place on our list of top recommendations, but the HealthPro Plus proves to be the best when facing dense and dangerous cigar smoke.
A high-powered machine that means business, it can eradicate smoke, odors and harmful toxins in areas up to 1,125 sq. ft. The HealthPro Plus is ideal if you have a large open planned living space or communal area where more than one person may be smoking cigars.
I knew it would be big, but I was surprised by its size when it arrived at HouseFresh HQ. I was even more surprised when I opened it up to reveal the extent of its filtration system. Inside the HealthPro Plus, you'll discover its powerful pre-filter and a HyperHEPA filter, capable of capturing pollutants as small as 0.003 microns over the usual 0.3; the HealthPro Plus quickly takes care of airborne contaminants.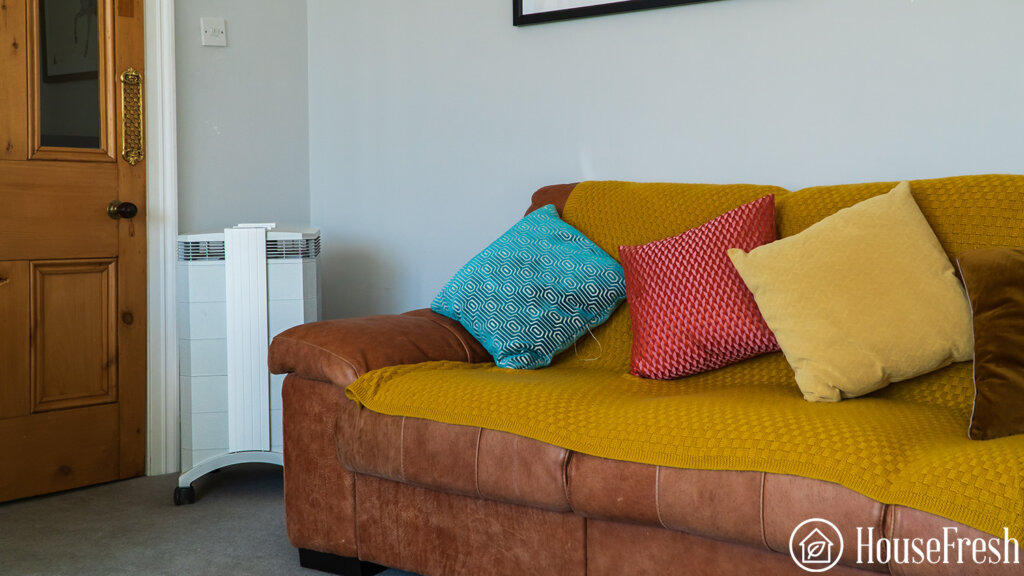 The activated carbon filter is packed with an impressive 5lbs of carbon to take care of cigar smoke odor and is married with pelletized chemisorption, which destroys harmful chemicals and toxins.
If you don't believe us, check out this video of the IQAir team pitting the HealthPro Plus against toxic smoke and chemicals.
SPECS & FEATURES
This unit doesn't have the fancy features, like smart sensors or a touchscreen display, that you may find on other premium models. You can rest assured that you're paying for an air purifier to haul cigar smoke out of the air as quickly and effectively as possible.
If you don't have any respiratory issues and are not concerned about ozone, then you should consider this unit with air cleaning power supercharged with an ionizer function.
Here at HouseFresh, we're a little conflicted on the subject of ionizers. We've tested a few different units that use this technology and done extensive research on how they work, if they make a difference and the dangers that can come with using them. Even with our opinions, I didn't want to rule them out completely. That's your choice to make.
A great example of an air purifier that uses an ionizer to tackle cigar smoke is the Blueair Blue Pure 211+, thanks to its four filtration stages, combining an Ionizer with the standard pre-filter, HEPASilent™ technology and activated charcoal filter.
The four-stage protection employed by Blueair yields some of the best returns in the industry. It carries out 4.8 air changes an hour while capturing 99.99% of particulate matter. This includes smoke and toxins using its SmokeBlock filter, all in a space as large as 540 ft².
We witnessed this impressive performance firsthand, as this purifier cleared our test space of all pollutants in 18 minutes, proving that great things unquestionably come in small packages. This is down to its trademarked HEPASilent™ technology, which allows for greater efficiency at lower fan speeds, making this unit whisper-quiet and environmentally friendly too.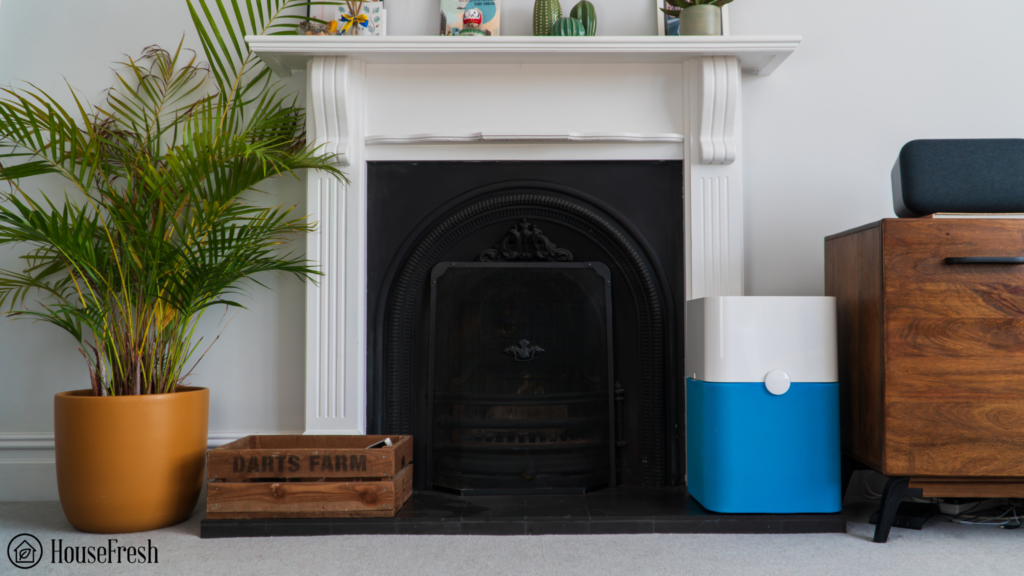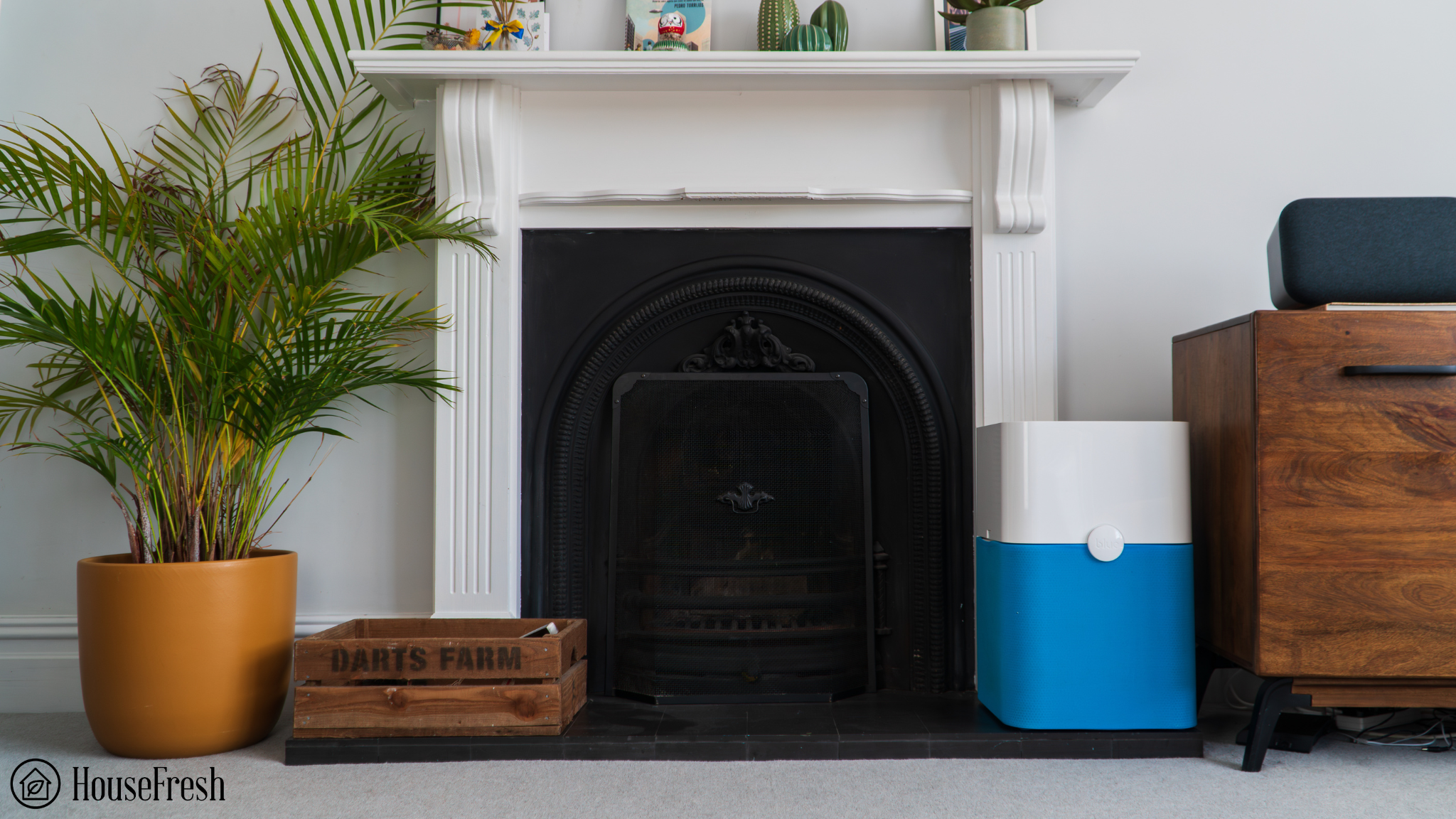 SPECS & FEATURES
Coupled with fast-acting purification, the Blue Pure 211+ comes with an innovative design that isn't just easy on the eye but will make your life easier and even cost you less to operate in the long run.
A super powerful air purifier packed with activated carbon that can clean the air in huge spaces of up to 1,300 sq. ft.

If a warranty is essential to you, I recommend you check out the BreatheSmart 75i. Alen offers a lifetime warranty on their air purifiers when you register your product and sign up for their filter replacement subscription.
Opening the front panel reveals its H13 HEPA, Activated Carbon filter, and a super powerful fan that can clean the air in a colossal sized space of up to 1,300 sq. ft. It is also a quiet unit, ranging between 25 and 49 dB, so it will keep your cigar smoking time uninterrupted by jumbo-jet style fans.
The 75i comes with an impressive CADR rating of 347 CFM that cleared our performance testing room of pollutants in 24 minutes. This power doesn't have to cost a fortune either, as this unit is one of the most energy-efficient purifiers on our list, drawing just 45 watts of energy at its highest fan speed and a meager 1.8 watts at its lowest.
Alen also packed the 75i with features that will simplify your life and help the purifier perform at its peak for longer. Built into the unit, you will find an auto mode and an air sensor for automatic protection from pollutants, plus an optional Ionizer for faster results, smartphone app compatibility for remote operation and a filter replacement indicator that monitors the performance of the filters and lets you know when it's time to replace them.
Alen has a range of filters available for the 75i to tackle a variety of air quality issues you may be experiencing. For cigar smoke, I would recommend spending those extra dollars and fitting their Fresh filter, as it's engineered to deal with smoke, harmful chemicals and VOCs.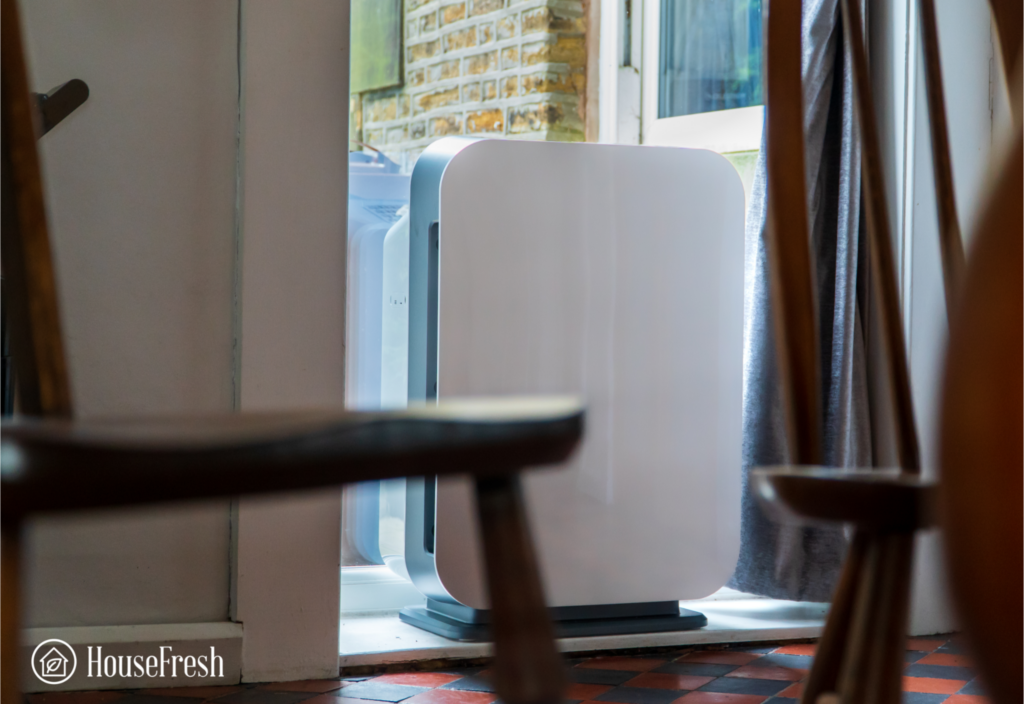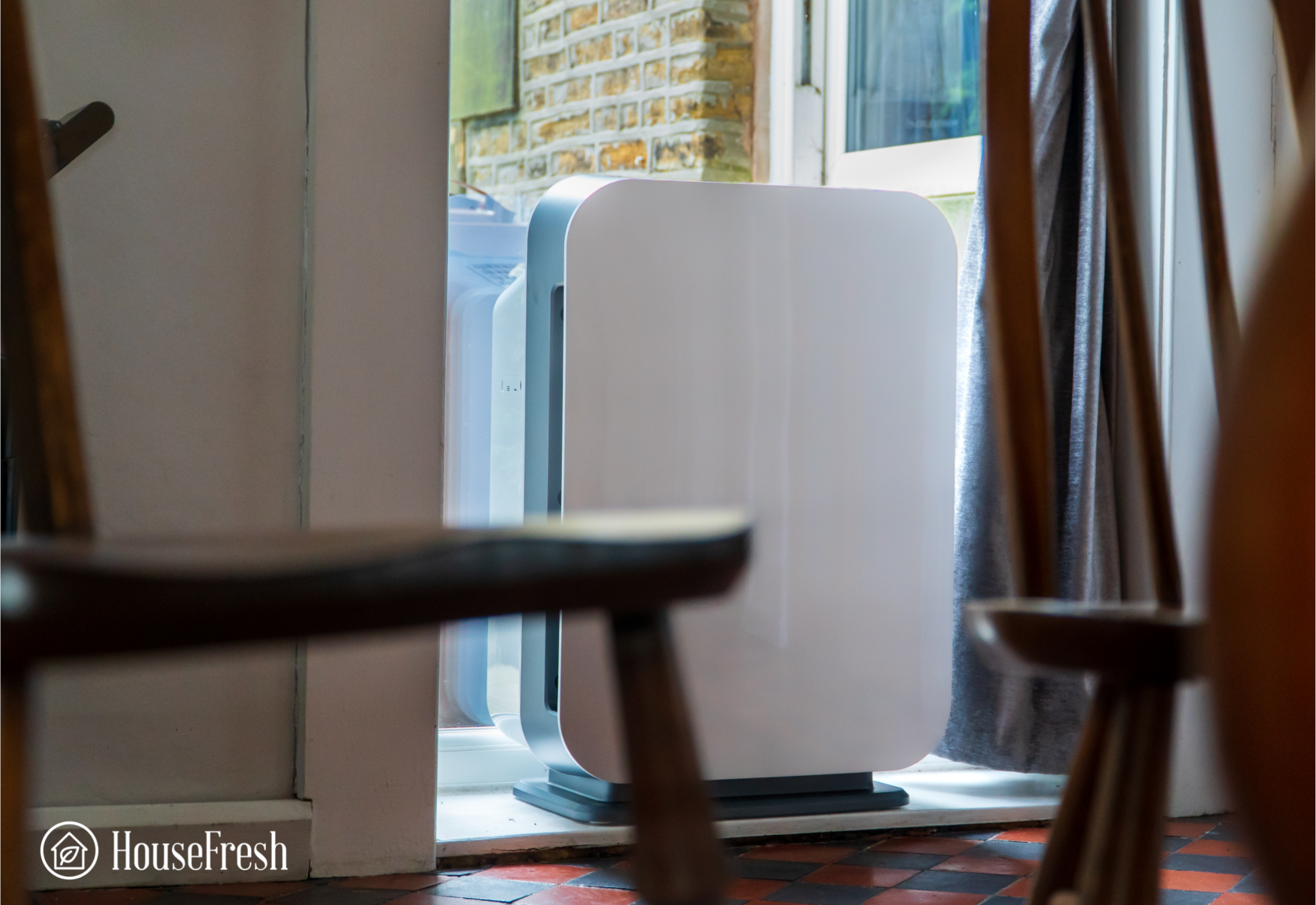 SPECS & FEATURES
There's nothing worse than an air purifier failing on you just as you're about to light up your Cuban, so having a lengthy warranty on your unit will give you that peace of mind to relax and enjoy.
What to look for in an air purifier for cigar smoke
Getting the right purifier for cigar smoke removal can be tricky since the market is saturated with cheap and underpowered options.
When choosing one, there are a few key points to consider:
1. Minimum CADR of 150 CFM
Cigar smoke contains over 7,000 chemicals. Of these, at least 250 are known to be harmful, including ammonia, carbon monoxide and hydrogen cyanide.
This means you need to make sure that any air purifier you choose has the power to remove it quickly. You need to avoid CADR scores of less than 150 CFM when dealing with an issue like cigar smoke, as even in the smallest room, it will take a long time to remove the particles from the air.
All the air purifiers we recommended have a minimum of 226 CFM, and our largest has 435 CFM. A powerful air purifier will quickly remove the particles and odors related to cigar smoke, even in the largest of spaces.
We have recently built a tool that allows you to see what CADR you will need for your room to match the EPA's guidelines of 4.8 air changes per hour:
2. High quality air filters, including activated carbon filtration
The golden standard for smoke (tobacco, fireplace, or wildfire smoke) is the combination of HEPA and activated carbon filters.
HEPA will remove all the particles down to the microscopic particles but won't do anything for gasses and odors.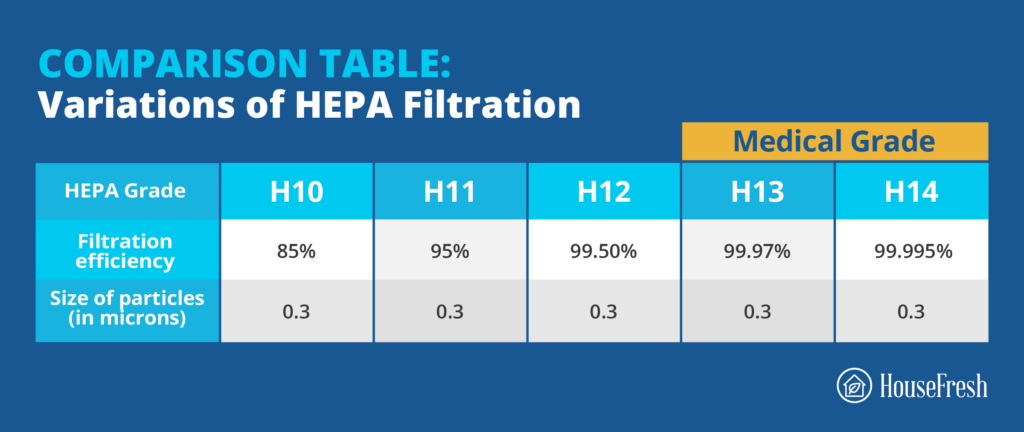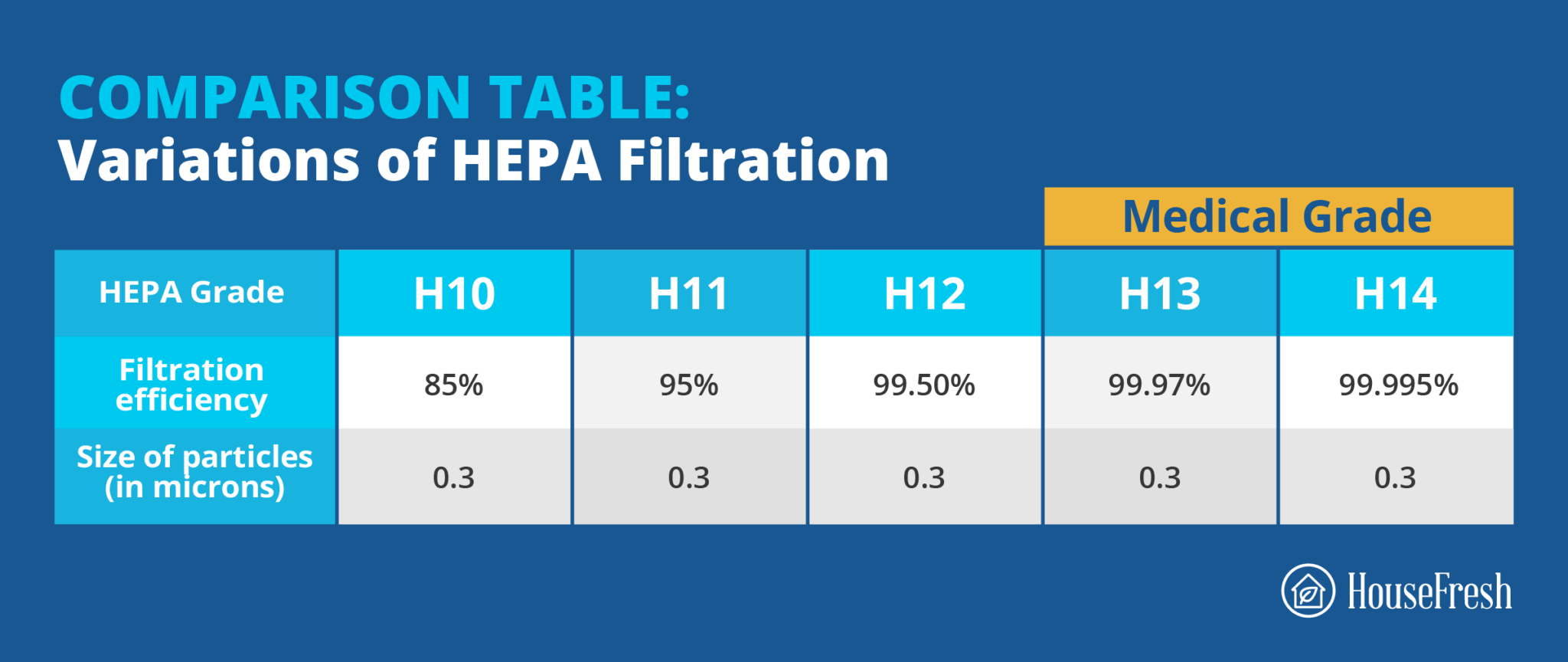 Be sure to avoid gimmicks like UV light or PECO. In most cases, you will just waste money on technology that doesn't improve performance and, in some cases, it can even make the air worse with additional chemical byproducts.
HEPA Filters – The best filters for cigar smoke are True H13 HEPA filters, which can remove 99.996% of particles seized bigger than 0.1 microns. But even True HEPA will do an excellent job removing most of the particles associated with cigar smoke and can even have increased airflow.
Activated Carbon Filter — These are designed to remove odors, including smoke and vape smell. They achieve this by absorbing volatile organic compounds (in a gaseous state) from the air. The thicker the filter, the better and if possible, look for filters that use activated charcoal pellets vs. the impregnated fabric you see in cheaper air purifiers.
Stick to HEPA and activated charcoal, as other technologies have not been proven and could create chemical by-products, so don't be swayed by the marketing hype!
3. Noise level when running the unit at top speed
Air purifiers have fans that pull air through a series of filters. Some fans make a humming sound when you turn them on. HEPA and activated charcoal-based air purifiers will always have a level of sound due to fan use, but you will be surprised at how quiet they have become, thanks to improvements in fan technology.
As with any other machine, air purifiers' sound intensity is measured in decibels (dB). Usually, manufacturers specify the dB their units emit, but here at HouseFresh, we don't take that for granted and measure the noise levels of all the purifiers we test.
We've come across units capable of purifying the air in a room emitting no more than 49 dB and others that, like the Austin Air Healthmate Standard Air Purifier HM400, go as high as 60 dB.
When choosing the right purifier for a relaxing cigar session, you'll probably want the unit to run as quietly as possible while keeping the air clean and free of chemicals – even better if it's imperceptible. That's why we've included the noise level of each unit featured in our list in the specifications tables.
4. Smart features such as auto-mode
Onboard sensors and auto-modes are becoming a must-have for many brands, as these features make an undeniable difference when it comes to efficiency, energy costs and filter life. If the unit is capable of detecting airborne pollutants in the air, it can adjust fan speed to tackle the smoke as soon as it is produced.
However, smart features come at a cost. Smarter units can have higher price tags than more basic ones with the same air-cleaning performance. The Levoit Core 300 is a good example. The Core 300S with built-in sensors and auto-mode cost a few extra bucks, but the smart features take the 300S to another level.
Still, when it comes to stepping up the smart in an air purifier, the Mila stands its ground. The eight onboard sensors in this unit make for a great deal of Mila's smart and comprehensive auto mode.
---
Common questions about air purifiers and cigar smoke
Wrapping up
Whether you're someone who occasionally savors a cigar or a dedicated enthusiast, using an air purifier can be a wise choice to eliminate lingering odors and harmful particles from your indoor surroundings.
In general, selecting an air purifier equipped with HEPA and Activated Carbon filters is crucial for adequate smoke protection.
Nevertheless, finding the right air purifier for your needs involves considering various factors. These include the size of your room and how often you enjoy cigars. Your preferences and habits play a crucial role in making the best choice.
Last update on 2023-11-30 / Affiliate links / Images from Amazon Product Advertising API