Since the first air purifier was sold in the 1960s, interest in devices that keep the air clean of particles and gasses has significantly increased. Covid-19 and Wildfire smoke has made many people realize that air quality is as important as hygiene and water quality.
As of 2022, the air purifier industry was valued at 13.97 billion dollars and is expected to grow to $25.97 billion by 2030.
As with any large industry, not all air purifiers work as well as they are marketed. The team at HouseFresh has been busy testing the latest air purifiers to identify the best on the market. With this experience, we know which brands are the best for many applications. 
So, we put this guide together to help users find the right air purifier brand for them.
Why You Can Trust Our Recommendations

This list of brands is based on our internal testing from buying air purifiers with our own money to avoid biases and we have no relationships with any of the brands on this list. 

To ensure we can achieve our mission here at HouseFresh, we test and review every single air purifier we recommend in our home lab, so we can compare them using data that doesn't rely on manufacturers' specifications. 

Our testing process:
1️⃣ We create particulate pollutants in our home lab with the help of incense sticks.
2️⃣ We use a Purple Air Indoor sensor to record how long it takes the air purifier to reduce the levels of PM1ug/m3, PM2.5ug/m3, and PM10ug/m3 particles in the air.
3️⃣ We track energy consumption with an electricity usage monitor.
4️⃣ We measure noise levels in decibels across all power levels available.
We used all the data we have gathered through our own testing to handpick the best air purifier brands available on the market right now. 
The brands included in this article have three things in common::
👉 Excellent CADR to $ ratio — We avoided brands that charged too much for air cleaning performance as its simplest; an air purifier is just a fan and a filter.
👉 Trusted HEPA filters — We avoided brands that used technology like UV-C or PECO as they don't have the academic studies/data to back them up in a residential environment.
👉 Not too loud  — There is no point in buying an air purifier that is too loud to use; we removed brands that had very high sound output.
1. Best Brand Overall: IQAir
The oldest air purifier brand on our list, IQAir, was founded in 1963 and was one of the first companies to create consumer air purifiers. Set up by two brothers, Manfred and Klaus Hammes, who initially made a device for cleaning the air from residential coal ovens in Germany.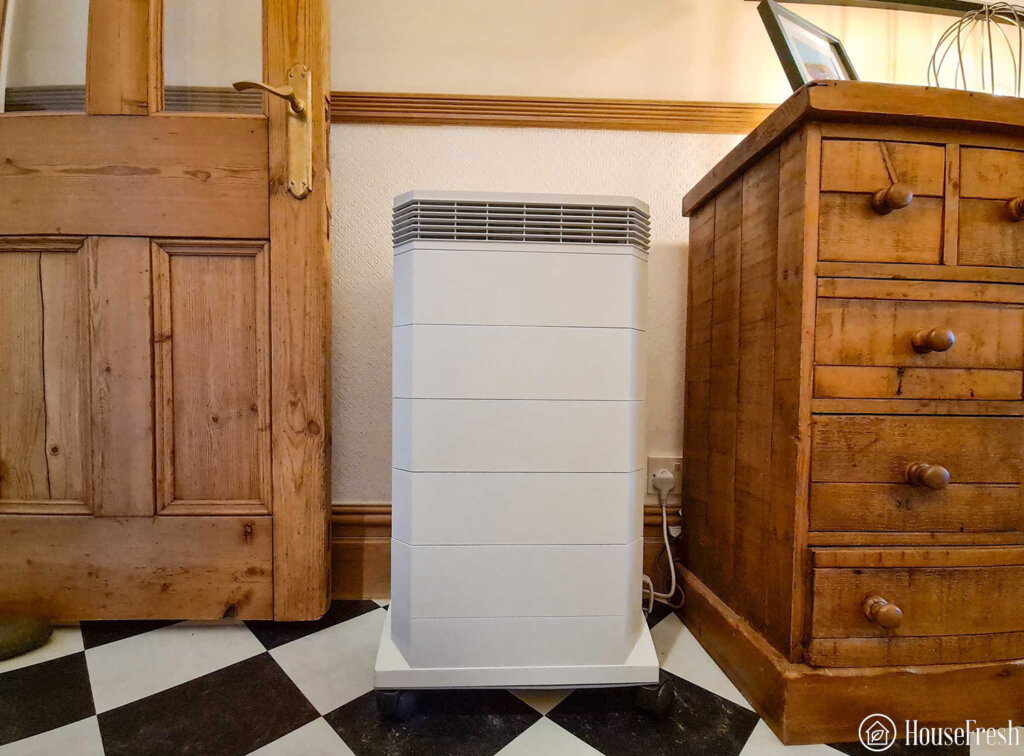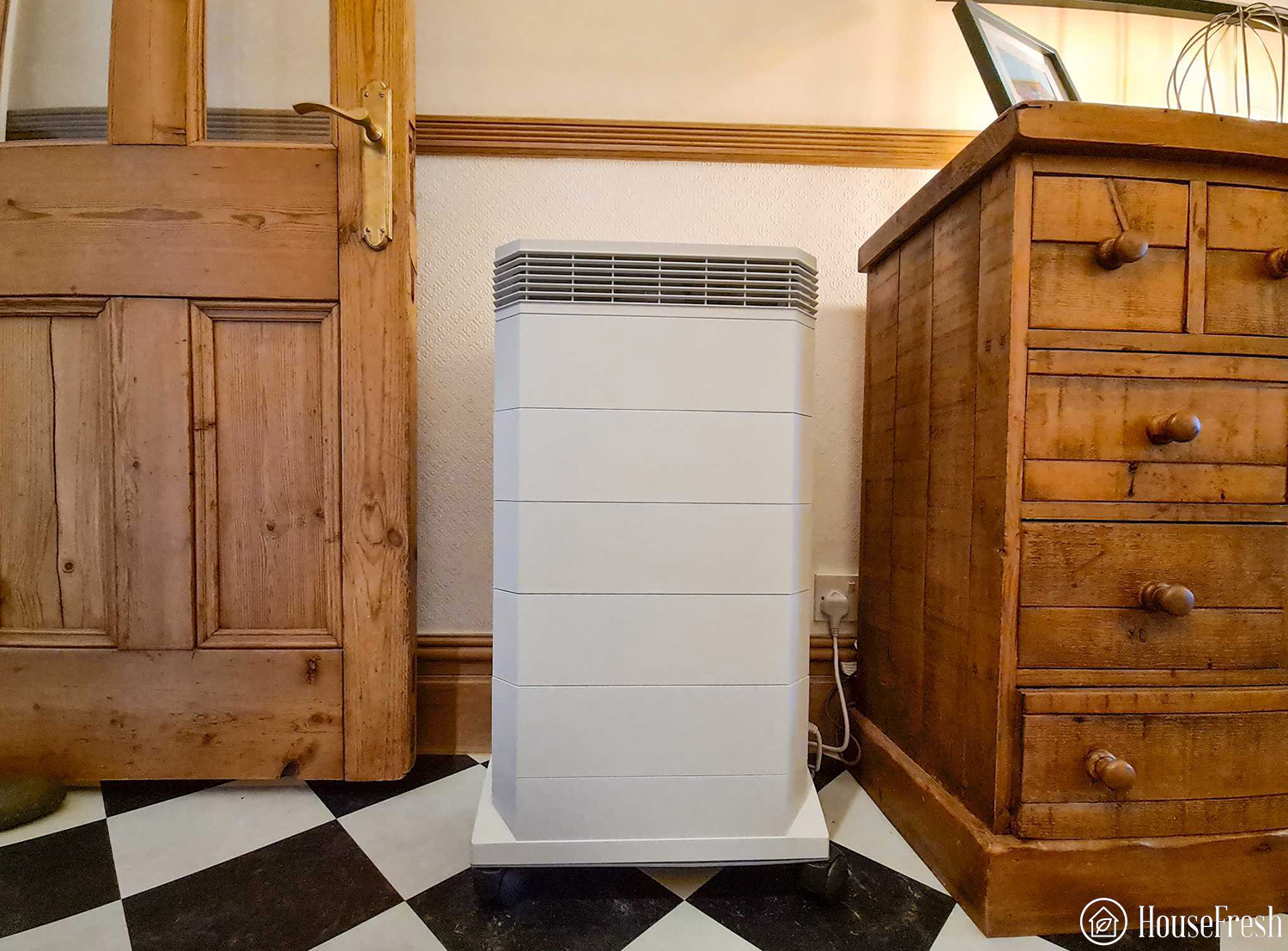 They noticed that the same device helped reduce asthma flare-ups in Manfred, who has lifelong asthma. IQAir is now based in Switzerland and is the highest-end consumer air purifier brand. 
Key products include the medical-grade HealthPro Series, GC MultiGas for chemicals and odors, the portable Atem Desk Purifier and the AirVisual Pro air quality monitor. 
The stand-out feature of the IQAir range is the high-quality HyperHEPA filters that are medical grade and their use of large amounts of activated carbon in their Healthpro series and, in particular, what they use for their GC MultiGas.
What We Really Like About IQAir:
👍 High powered fan that is tested before it is sent out to you with a certificate and its performance results
👍 High-quality HEPA and Activated Charcoal filter
👍 The first brand to create a commercial air purifier
👍 No smart features – all your money goes towards the fan and filters
What We Think IQAir Could Do Better:
👎 It would be good to have smart option upgrades available
👎 Filter costs are very high
2. Best Brand for Efficiency: Blueair
Founded in 1996 in Sweden, Blueair is a relatively young air purifier brand that has quickly become a leader in the industry. It was started by Bengt Rittri, who, inspired by the pristine Swedish environment, aimed to bring clean air everywhere. In 2016, Blueair was acquired by Unilever, further expanding its reach globally.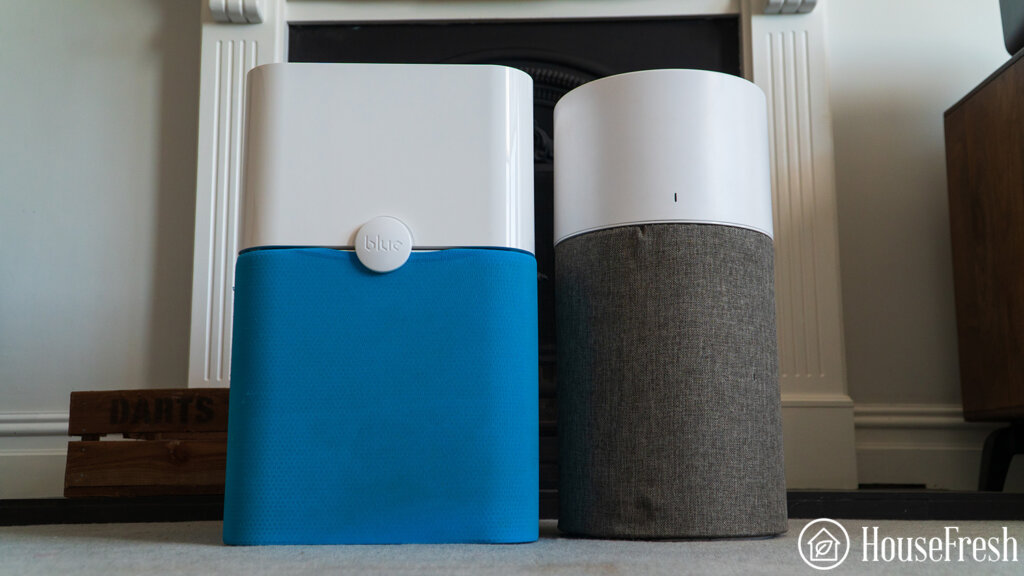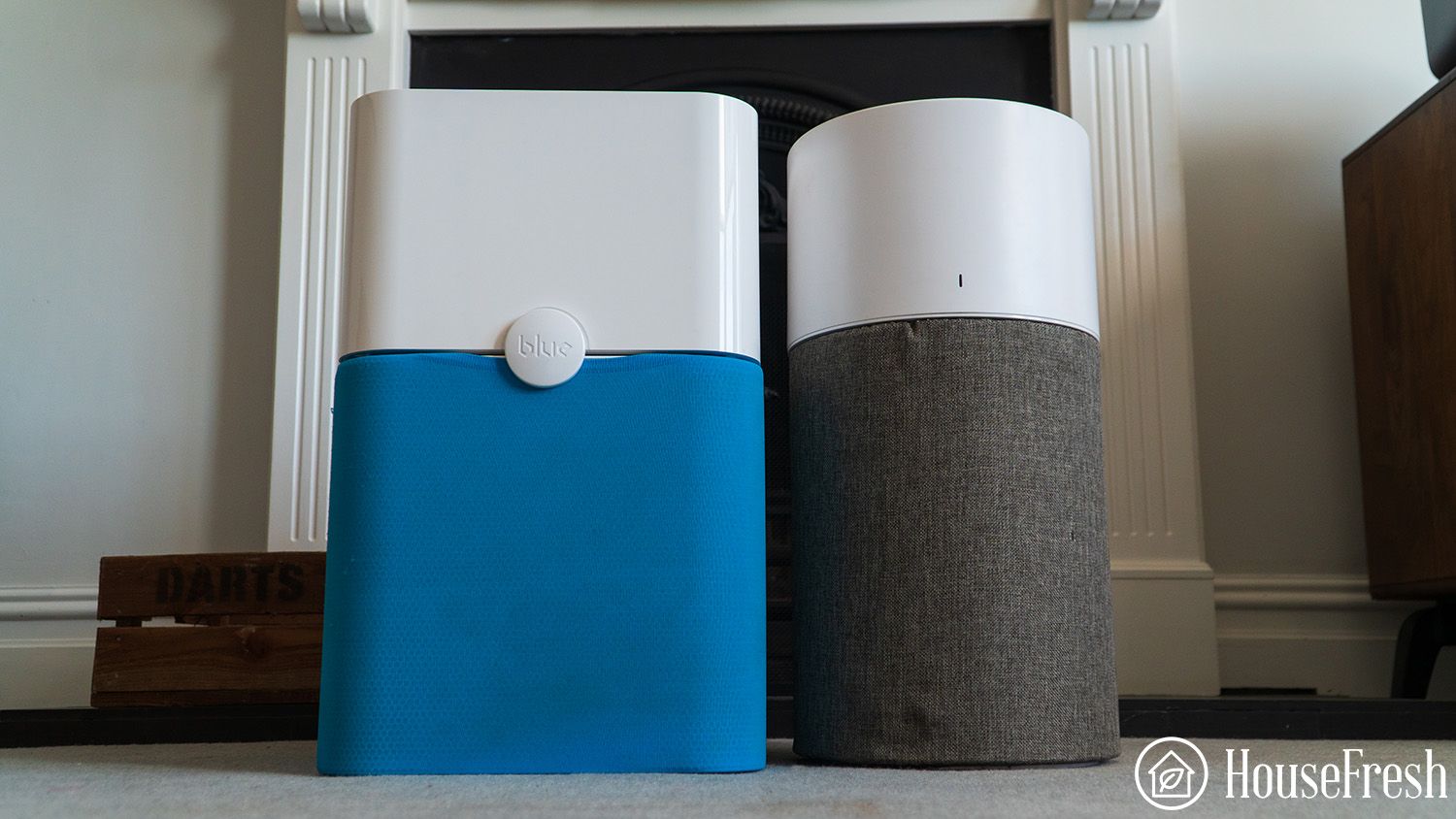 Blueair's essential products include the Blue Pure Series, designed for budget consumers without smart features and the Classic Series featuring Wi-Fi connectivity and higher ionization. The HealthProtect Series is for 24/7 protection against viruses and bacteria, and the Pro Series is for large spaces. The Cabin Air Series is for vehicle use and Blueair Aware is an air quality monitor.
A defining feature of Blueair's offerings is the patented HEPASilent™ technology, which combines electrostatic and mechanical filtration to remove 99.97% of airborne particles down to 0.1 microns in size, surpassing the standard set by conventional HEPA filters. 
Another standout feature is their attention to design aesthetics and energy efficiency, making Blueair a practical choice and an eco-friendly and visually appealing one.
What We Really Like About Blueair:
👍 Best energy efficiency – the 211+ auto only pulled 16.7 watts at full power
👍 One of the quietest brands with a maximum of 56 dB for 211+ and as low as 46dB for the smaller 411+
👍 Design stands out from many brands with options to change the color using the fabric pre-filters
👍 Filter costs are some of the cheapest on the market
What We Think Blueair Could Do Better:
👎 No way to turn off the ionizer
👎 New models come out regularly with slightly adjusted specifications that makes it confusing for the consumer
3. Best Brand for Budget Buyers: Levoit
Levoit is one of the newer brands on our list that was established in 2017 in California. They have a range of products with high performance without the price tag. When we first reviewed the Levoit Core 300, we were truly blown away by the performance of a sub $100 air purifier.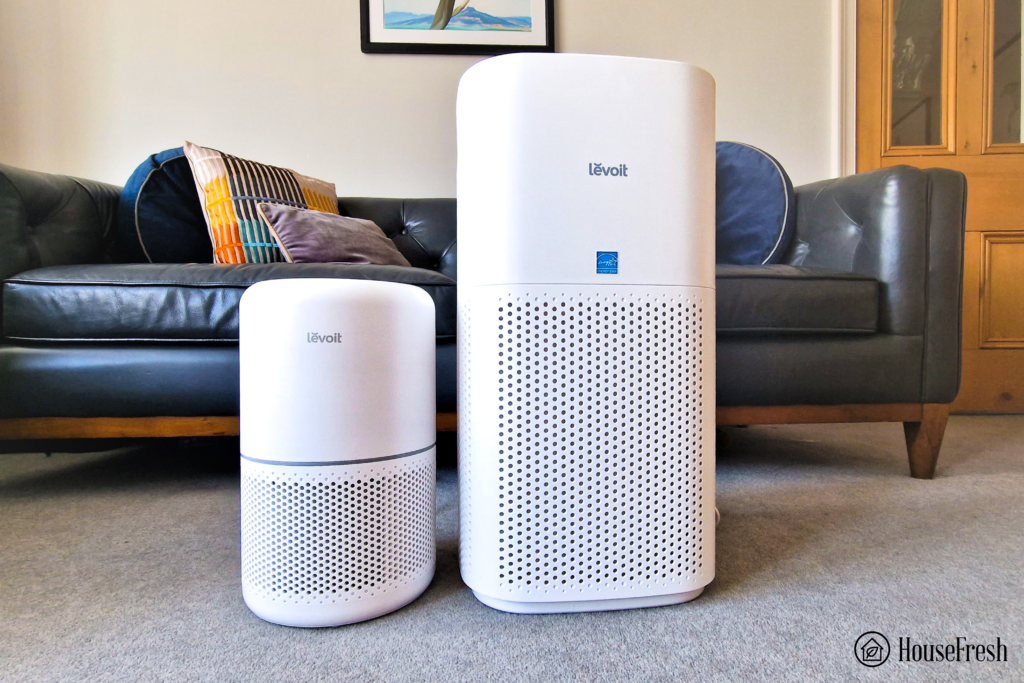 Before the Core 300, most cheap air purifiers were not suitable for even the smallest rooms; Levoit brought a CADR of 145 CFM that could clean our test room in under 40 minutes. Since the Core 300, Levoit has brought out a range of smart-enabled devices like the Core 400S and Core 600S and has also brought out a tiny unit suitable for Cars and RVs — the Levoit Core Mini. 
Their latest model pushes into premium territory with the EverestAir series, which starts at $499.99. For those on a budget, you can't go wrong with Levoit. Although based on our testing, we would stick with the Core series as they generally perform better for the same amount of money, both in initial purchase and filter replacement costs.
What We Really Like About Levoit:
👍 Great CADR (air cleaning performance) to $ ratio
👍 The Core 600S was the fastest at cleaning our test room of pollutants
👍 Nice design, especially with the Core Series
👍 Smart features and app support is good with the Core S series
What We Think Levoit Could Do Better:
👎 Remove older models that perform worse than the latest models
👎 Have more choice of the filter at purchase similar to what Alen offers
⭐ Read the review of our favorite air purifier from Levoit, the Levoit Core 600S. 
Set up in 2005; Alen is a US-based company from Austin, TX. It creates high-quality air purifiers allowing consumers to customize their filter choice to match their needs. The major stand-out feature for Alen is that they offer a lifetime warranty as long as you stick with their filter subscription service.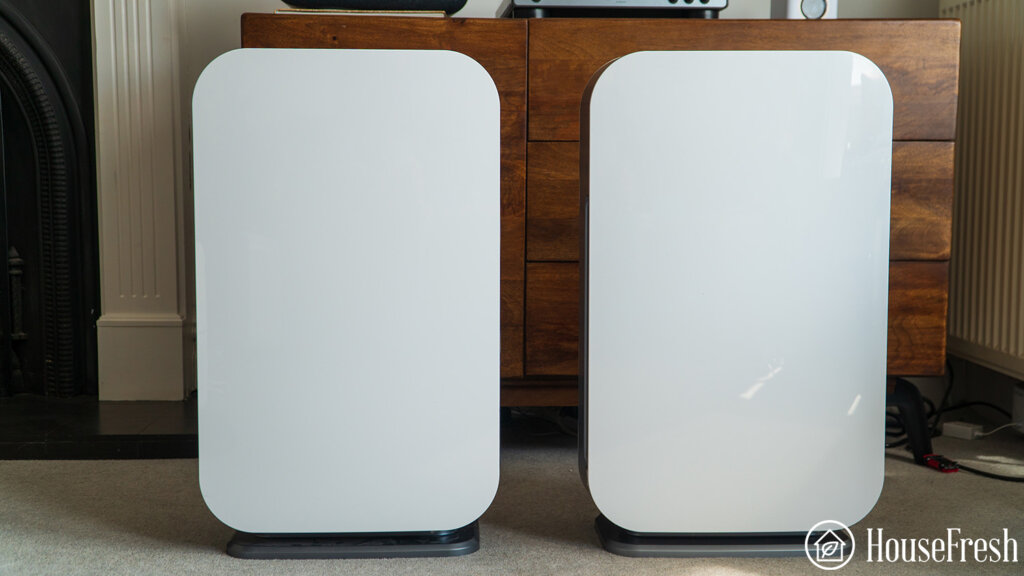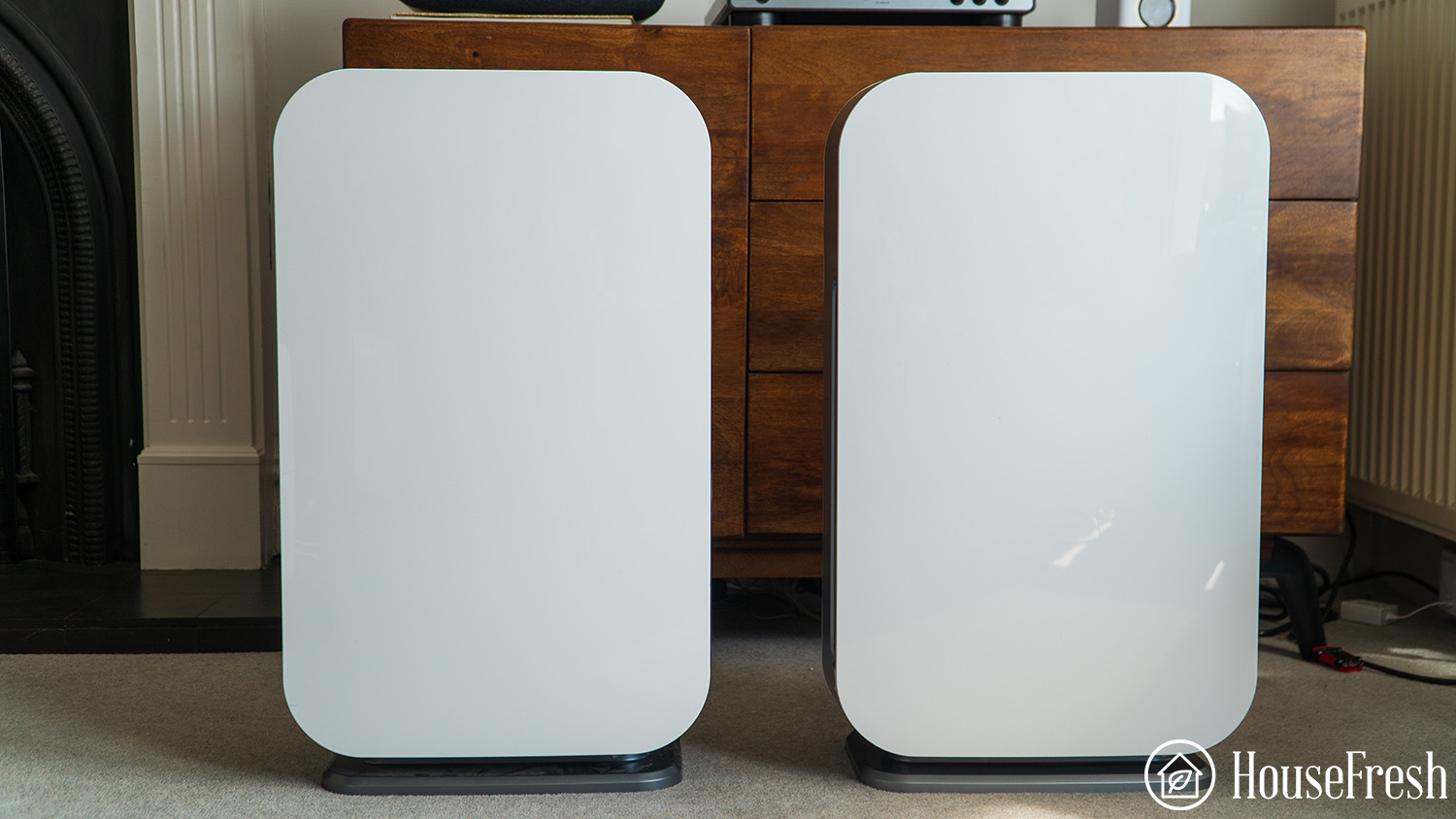 Their flagship units are the Alen 45i and Breathsmart 75i, which both utilize optional ionization technology similar to Blueair and support Auto modes via their onboard sensor and the ability to control them via an App. They also have options like the Flex series with sensors and smart features removed for those who want the same cleaning power without paying for those extras. 
We still have one of the older Alen air purifiers, the Alen A350, that you can buy filters for and, while it is a bit power-hungry, can still clean, as well as many modern models. 
What I like about Alen is the choice of filters. You can adjust to your specific needs, such as HEPA only for those worrying about pollen allergies to filters with larger amounts of activated carbon for issues with gasses and odors. 
What We Really Like About Alen:
👍 High-end design with great smart features with their flagship models
👍 Can customize filter choice to match your specific needs
👍 Lifetime warranty
👍 Good build quality compared to cheaper brand units
What We Think Alen Could Do Better:
👎 Be cleared with exactly what each filter does – right now it could be better
👎 Provide lifetime warranty as long as genuine filters have been used not just with existing filter subscription
Smart Air is a social enterprise that was set up during the heavy pollution in Beijing in 2013 and initially just shared DIY air purifiers that used fans with filters strapped on to help those without air purifiers keep their home air clean.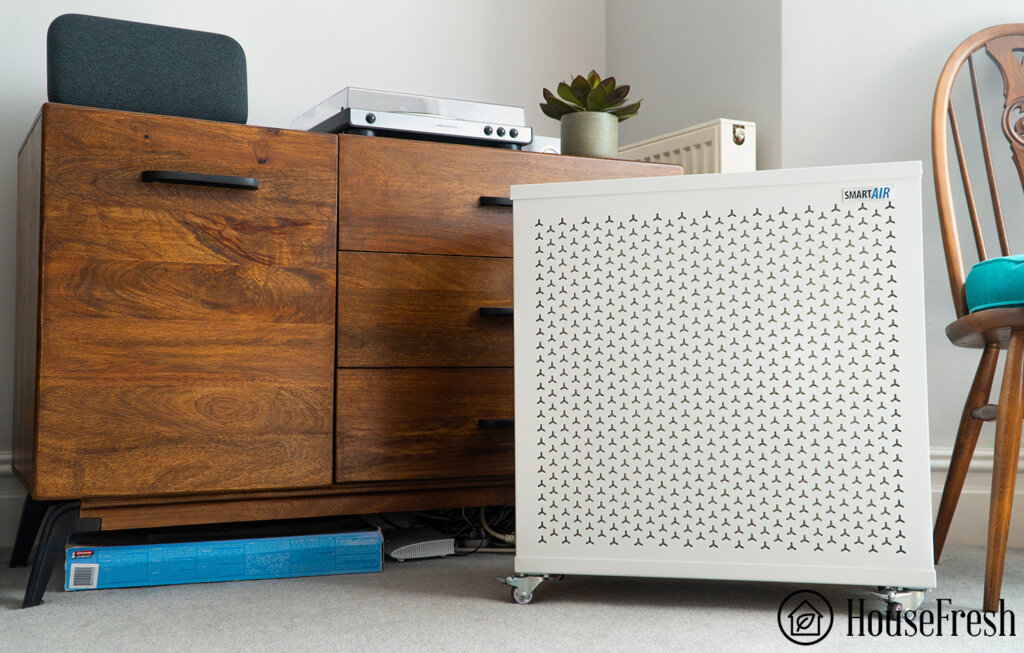 Since then, they have brought out a range of air purifiers, from the smaller portable QT3 to the room-sized Smart Health S to those aimed at larger spaces such as the Smart Air Blast Mini. 
Smart Air purifiers don't have the smart features and auto-modes you find with other brands, which is on purpose, as the team at Smart Air doesn't believe these provide value to keeping your air clean. 
Smart Air is worth checking out for those looking for an affordable air purifier with lower filter costs than many other competitors and likes to support a B corporation. 
What We Really Like About Smart Air:
👍 B corporation that shares a lot of great information for free, including studies
👍 Clear marketing on what each air purifier can do or not do
👍 Good level of air cleaning performance for $ spent
👍 Very fair costs for replacement filters
What We Think Smart Air Could Do Better:
👎 Have options for those who want a "Smart" air purifier with app support
👎 Allow users to customize their initial filters
Most Americans know the consumer brand Honeywell which has been in business since 1906. They bought the air purifier brand Enviracare in 1992 and have since been a significant player in the U.S. air purifier market.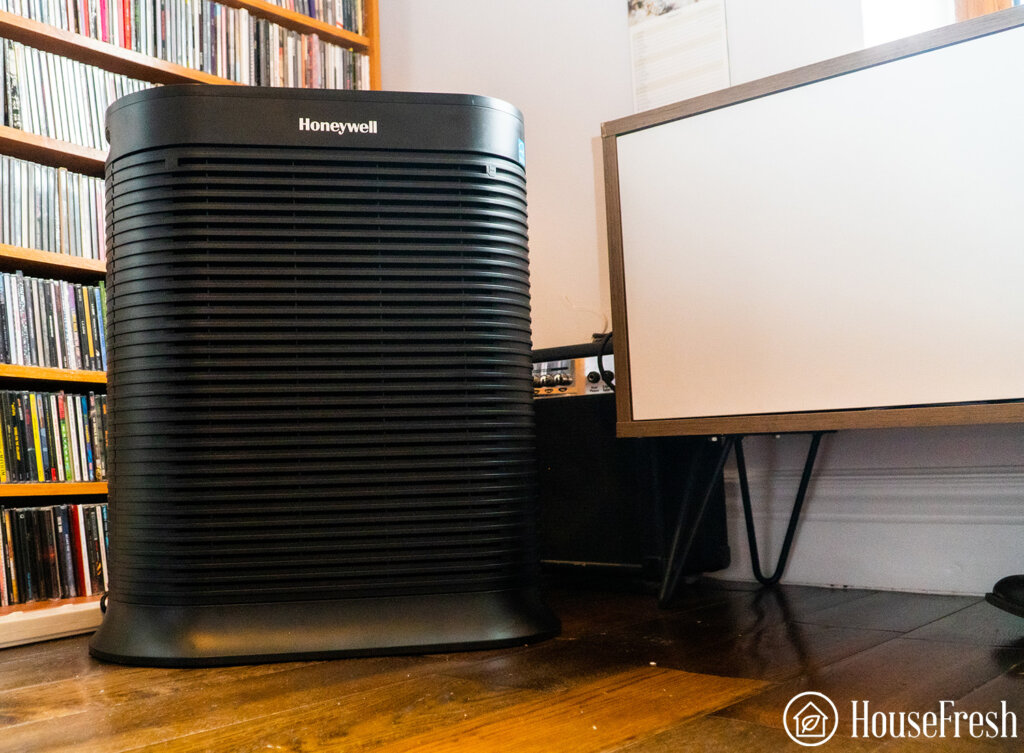 They have been producing an extensive range of air purifiers that use True HEPA and have a range of different units, from the budget-friendly HPA series that includes the popular HPA 300 and doesn't include any smart features to the Insight range that includes onboard IAQ sensors and finally the Air Genius series that use washable filters. 
Honeywell units bring high-end cleaning without the usual high price tag found with other brands. While they may use a little more power and be a little noisier, they have an excellent ratio of air cleaning performance to $ spent. 
What We Really Like about Honeywell:
👍 Simple units that use multiple filters of the same type, so don't need to worry about getting different filters for larger units
👍 Good performance to $ ratio
👍 Filters are easy to find and sold in many places
👍 Simple controls — easy to use for non-techy consumers
What We Think Honeywell Could Do Better:
👎 Design is lacking compared to Blueair and Alen – a little boring
👎 Runs a little louder than other brands on this list
⭐ Read the review of our favorite air purifier from Honeywell, the Honeywell HPA300. 
Dyson is from the UK and was set up in 1991, focusing on vacuum cleaners. Since becoming the goto brand in the home vacuum space, they have looked to other products such as air purifiers, fans, heaters and humidifiers.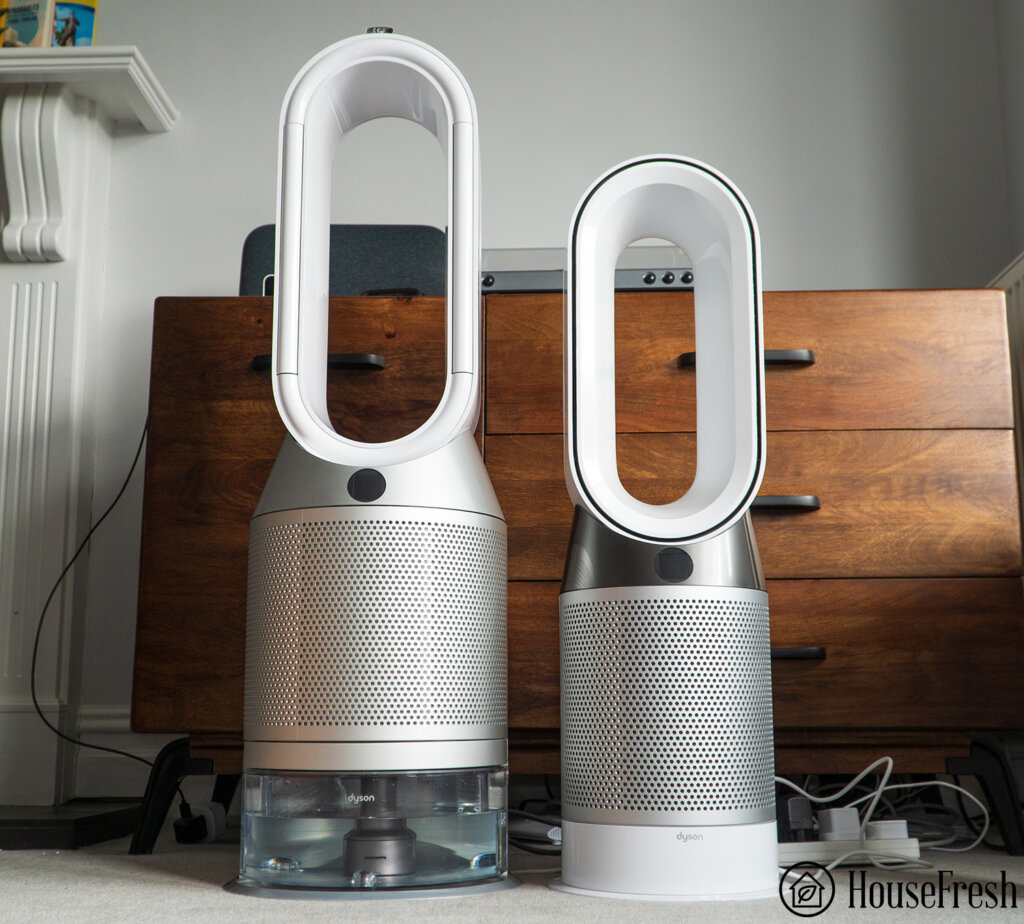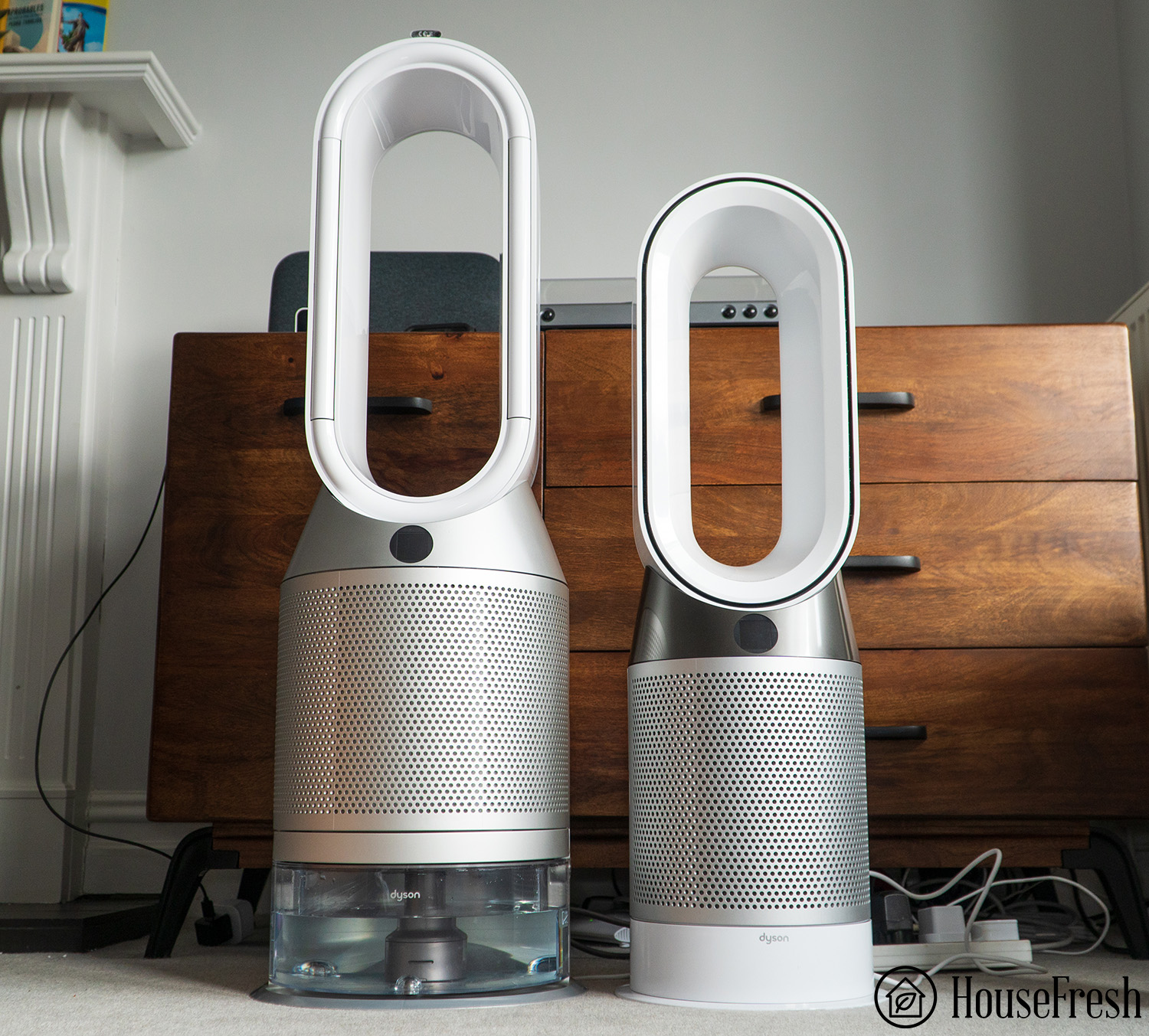 Using their existing bladeless fans, they created their Pure Cool series of air purifier fan combos (TP01, TP02, TP04) and then heater, fan and air purifiers with the HP series — we got a chance to review the Dyson HP04. The latest model of combo units includes the innovative humidifier, fan and air purifier range, and we were impressed by the Dyson PH03, which manages to do all three jobs with one unit. 
As with any Dyson product, their air purifier range is not cheap, costing upwards of $600. You do get features that don't exist anywhere else and their Dyson link app was one of the best apps we have used for an air purifier. 
What We Really Like about Dyson:
👍 Best looking design of all the brands on our list
👍 Best App UX – that connects with other smart Dyson products
👍 Filters are well made and use high-quality materials
👍 Combo features are not available with other brands
What We Think Dyson Could Do Better:
👎 High price to CADR ratio, if you are looking for just air purifier performance you are better off with a different brand 
👎 New units, are released every 6 months which makes it hard to compare and makes it confusing for consumers
Another one of the older air purifier brands on our list, Coway is a South Korean company founded in 1989 that makes a range of home wellness products.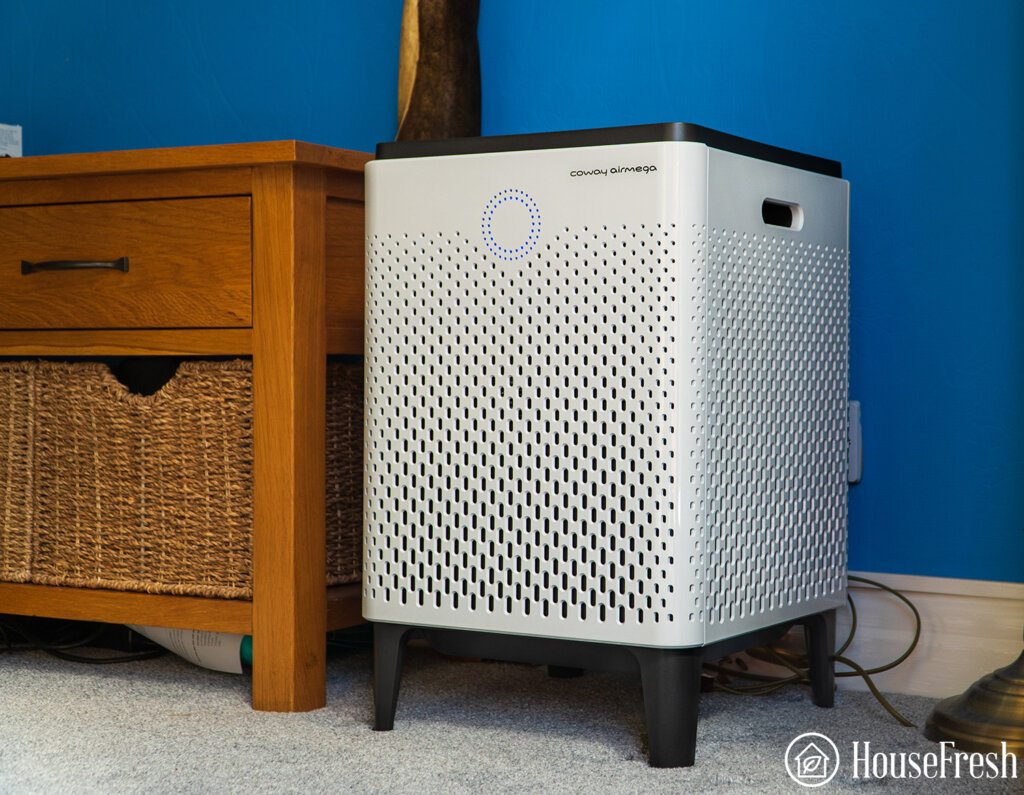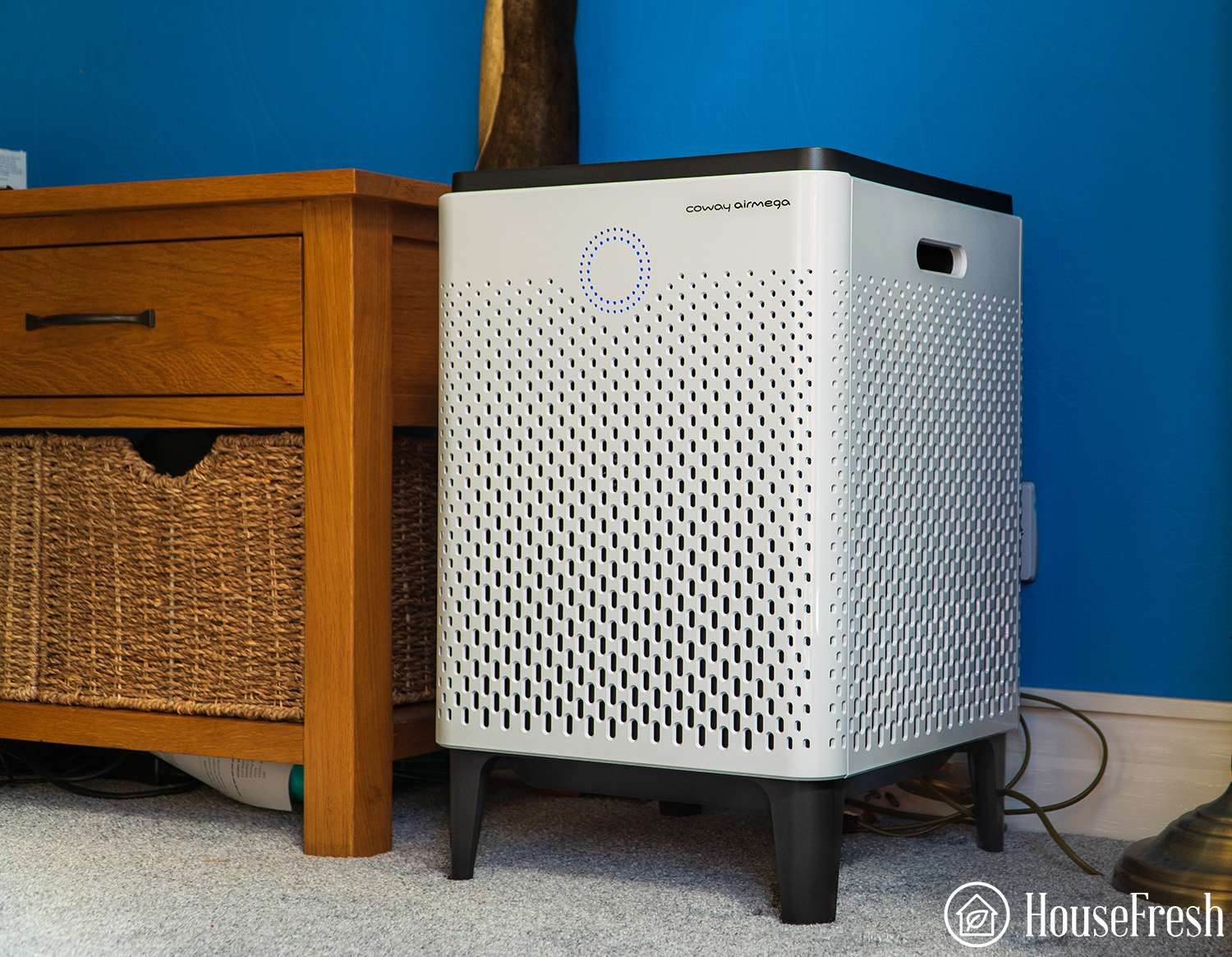 Similar to Blueair and Alen, they combine electrostatic with HEPA and activated charcoal to provide high cleaning performance for a lower price usually seen with pure mechanical air purifiers. 
We were very impressed with the Coway AP-1512HH (aka Mighty), which cleaned our test room in 23 minutes and had one of the best costs per CADR for this size of air purifier. The Coway Airmega series brings smart features and while the cost is a little higher, the Coway Airmega 300 still performed well in our particulate performance test. 
What We Really Like About Coway:
👍 Good air cleaning performance to $ ratio – good value
👍 Well-made units that look good as they perform
👍 Good level of noise generation with a maximum of 53dB with the Mighty and 52dB with Airmega
👍 3-year manufacturers warranty
What We Think Coway Could Do Better:
👎 High energy usage compared to other brands – 77.6 watts for the AP-1512hh
👎 Clearer idea about room sizes – Airmega 300 is rated for 1256ft, but this would be too little for most consumers
9. Best Brand for Eliminating VOCs: Austin Air
Another one of the original brands in the air purifier space, Austin Air was founded in 1990 after the founder found that his wife's respiratory problems only went away when she was in a hospital clean room.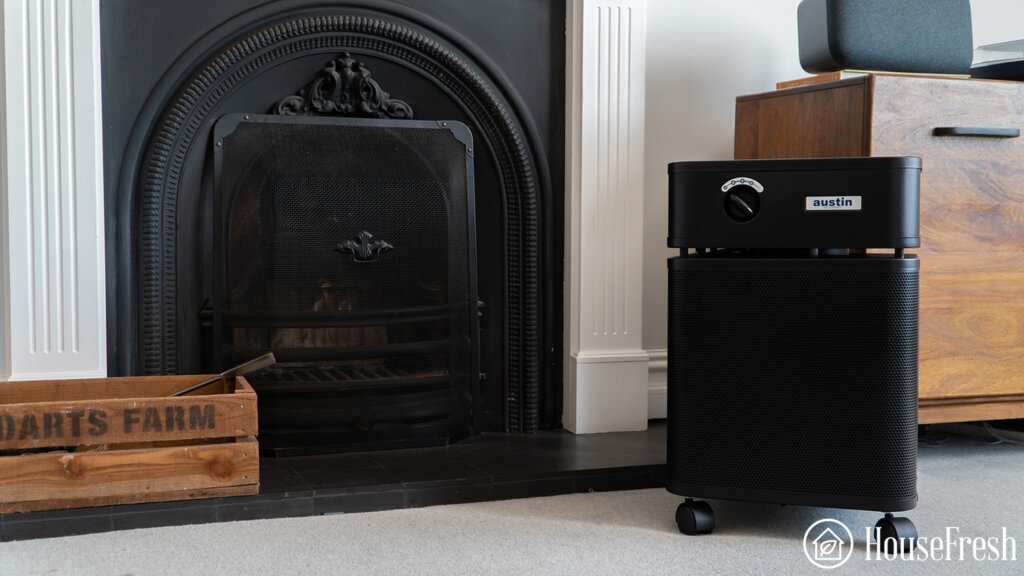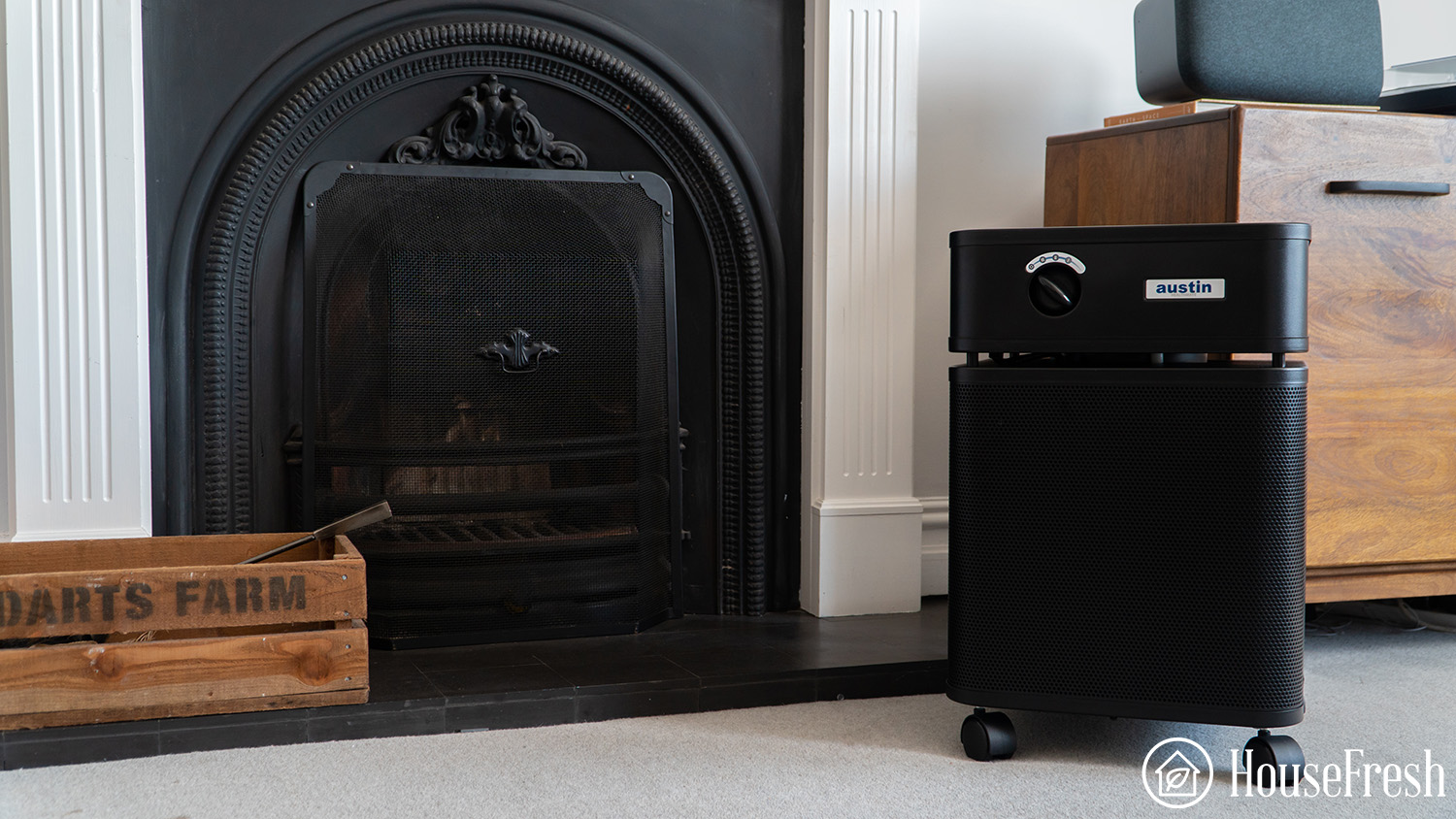 Austin creates large utilitarian purifiers that don't use smart features but include large amounts of activated carbon not typically seen in consumer air purifiers and are perfect for dealing with issues like VOCs. 
We got to test the Austin Healthmate, which is aimed at chemical pollutants. They also create more HEPA-focused units like the Allergy Machine series that aim to remove particulate matter. 
While Austin Air units don't come cheap, their filters only need replacing every five years, so long-term costs are less than some of the most affordable air purifier brands. For those in the USA looking to remove gasses and odors, the Austin Air brand should be at the top of their list of units to check out.
What We Really Like about Austin Air:
👍 USA Made
👍 High levels of activated charcoal used with 15lbs used in the Healthmate
👍 Simple three option controls
👍 Filter costs are just over $50 a year as they only need replacing every 5 years
What We Think Austin Air Could Do Better:
👎 Clearer marketing around units that are for gas and which are for particle
👎 High price for the amount of CADR each unit can provide
---
Buying Guide: Choosing an Air Purifier Brand
Choosing the right air purifier brand is not easy, especially if you're new to the world of air purification. 
Check out our handy guide below if you're just starting your journey into choosing a unit. 
| | |
| --- | --- |
| If budget isn't an issue and you just want the best you can get: | Check out the range from IQAir and the larger "Blast" units from Smart Air |
| If you're on a tight budget:  | Look at the Blueair "Blue" range and "Core" units from Levoit. |
| If you want smart features: | Blueair, Levoit, Alen and Dyson, all make excellent smart units that utilize auto-functions and app support. |
| If you want great filters at a relatively low-cost: | Austin Air only requires you to change the filters every five years, so the cost is less than $50 per year. Levoit and Blueair also have affordable replacement filters.  |
| If you are tech-phobic and want simplicity: | Honeywell and Smart Air units are easy to operate and usually only have a few simple buttons to understand from day one.  |
| If you want a brand that manufactures in the USA: | Austin Air is the only brand on our list that manufactures in Buffalo, New York, for the last 30 years.  |
---
Frequently Asked Questions About Air Purifiers 
🤔 What is the best air purifier on the market?
No air purifier is the best for everyone, as each model is different, and your specific needs may vary. For those with small spaces and a tight budget, you can't beat something like the Levoit Core 300, as it cleans well, doesn't generate too much noise and is relatively cheap to run. 
For those with larger spaces or specific issues like VOCs, cigarettes, and weed smoke, it's worth looking at our guides to these specific issues. 
🤔 What are the most prominent air purification companies?
Many huge companies also make air purifiers, like Dyson, with a revenue of $ 6.5 billion and Honeywell, $8.86 billion, but this includes many other products, not just air purifiers. The largest air purifier company would be Blueair, which, according to Linkedin, has 134 full-time employees, the most extensive for an air purification company.
---
Wrapping Up
Some air purifier manufacturers will say that commercial customers need extra technology like UV-C or other new technology. Still, you just need the same as residential users – high-grade HEPA and activated charcoal. By avoiding these new technologies, you will get better performance for less money. 
Try to look for brands and models that are open about their CADR score and performance so you can choose the right air purifier for your commercial space. Depending on your situation, you will want to see multiple air changes per hour, but generally, large spaces need large air purifiers or various units.